A Day Among Men
Club Adam Prepares and Fosters Interest Among Male Students for their April Retreat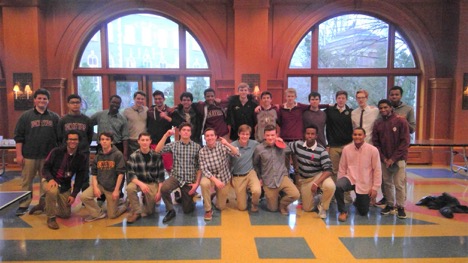 Hang on for a minute...we're trying to find some more stories you might like.
Club Adam is a school organization centered around growing men's faith and fellowship and currently the club is preparing for a retreat after school on Friday, April 28th.
Although inactive for two years, Club Adam is being brought back by Mr. Morrow, Mr. Lord, and other male Ignatius faculty who aim to help male students at our school grow in their spiritual and personal development. Club Adam's activities, such as the ping pong party held on February 24th and dodgeball game on March 23rd, are designed to foster interest in their "Day Among Men" retreat held on April 28th.
One of the moderators for Club Adam, Mr. Lord said, "We are trying to develop men's spirituality in school. The male teachers in our school are trying to reach out to our young men and get them to stand up and be good Christian men."
Mr. Wisniewski considers the club to be a great opportunity for male students at Ignatius to grow together and reinforce positive role models for men. Mr. Wisniewski said, "More than anything, we just want to get a bunch of guys together and talk about the different things we face, who we should look up to as role models, how we should act as role models, and what it means to be a man."
In regard to the gender exclusivity of Club Adam, Mr. Gaffey said, "It's not designed to exclude but rather address the unique needs of men and support each other."
Prospective members of Club Adam who attended the club's pizza and ping pong gathering on March 24th agreed with Mr. Gaffey's sentiment.
Patrick Litteson '18 appreciated the fact that Club Adam is exclusive to male students at Ignatius. Litteson said, "I like that it's a club just for guys because that makes it easier to bond. It's designed for juniors and seniors so it's also a great thing for underclass to look forward to."
The after-school retreat planned for April 28th is expected to host a wide selection of activities and bonding experiences, as it has in the past.
Mr. Gaffey said, "Previously we've had a bonfire, delicious potluck dinners, speeches given by graduates from Ignatius about how they continue to live a Christian life in a new context."
When asked what to expect for this year's retreat, Mr. Lord said, "We share meals together, we play dodgeball, we have talks and reflections on what it means to be a good Christian man."
If you're interested in joining Club Adam and being a part of their day of fellowship, don't hold back! The organization serves as a great way for young men to grow together both in faith and in friendship.