Down with Daylight Savings Time
Students Frustrated with Changing Clocks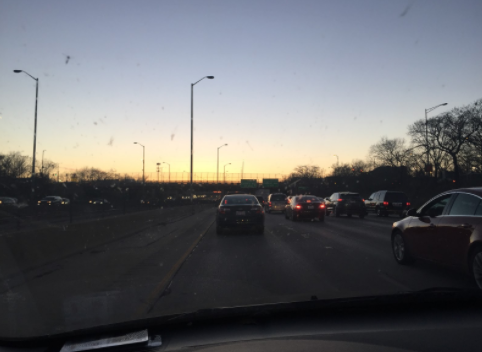 Hang on for a minute...we're trying to find some more stories you might like.
You wake up on Sunday, March 12th and something feels off. You know you went to bed at 9:00 but it does not feel like you got your 8 hours. Rubbing your eyes, you realize that Daylight Savings Time (DST) has begun. Alas, your phone confirms this horrifying news. One whole hour of sleep has been stolen from your life. Thanks, DST.
DST is used to "save" energy and make better use of daylight. But really it is just an excuse to disrupt our sleep schedules and keep the sun in the sky longer with no added benefits whatsoever.
Do not just take my word for it. While conducting interviews, I discovered that student opinions on this issue varied much more that I had originally thought.
Diana Alvarado '17 said, "Daylight Savings Time has ruined my life. Not actually, but it always makes waking up harder and it is always difficult adjusting to it at first."
"I don't think it should exist because there is NO real purpose to changing the time by an hour," Piper Foellmer '19 said in agreement.
The Wall Street Journal released an article in March 2015 debunking 5 common misconceptions people have about DST. Little did I know, DST was not implemented to help farmers. Farmers actually vehemently fought against DST because the lost hour of morning light meant they had to rush to get their crops to the market.
Nicolas Navarrete '19 believed this myth to be true as well: From what I know, the reasoning behind daylight savings is for those who work in agriculture.  It is meant to help keep in time with harvesting the crops once they are ready to be collected. For this reason I support it because we need the harvested for not only for our own food source, but it is also used as a source of income for our country."
DST does not benefit businesses as much as we think. The grill and charcoal industries saw a huge increase in profits ($200 million in sales) when they extended DST from 6 to 7 months back in 1986.
However, the television and transportation industries suffer greatly during DST. Worker productivity levels may also decrease during DST as well.
Freshmen Aude Christale Ngoue was averaging only about four hours of sleep per night during first semester. "Now, Daylight Savings Time is making me feel more tired even though I sleep more than I used to," she said.
Some students remain apathetic towards DST as it does not greatly affect their lives. "I don't know the issue and don't particularly care. It was inconvenient but not crippling to wake up an hour early," said Don Harmon '18.
There also is no standard time on which the country operates. For 7 out of the 12 months of the year, it is DST. There can not be a "standard" time if said "standard" time is only in effect for one third of the year. Why not just adopt the as a year-round standard time? Either that or just get rid of it entirely.
Edward Seley '17 said, "[DST] is outdated and we should end it because it's nothing but an inconvenience to everyone that has to suffer from it. DST this year hasn't been bad because we had the snow day; but in other years it has taken some adjusting to get used to and all because it's an hour out of my precious sleep schedule."
Back in Benjamin Franklin's time, when candles were still a big hit, Ben jokingly suggested that the Parisians could economize candle usage by getting people out of bed earlier in the morning, making use of the natural morning light instead. But last time I checked, the year is 2017 not 1702, so maybe it is time to let DST go.
Sources: https://www.washingtonpost.com/opinions/five-myths-about-daylight-saving-time/2015/03/06/970092d4-c2c1-11e4-9271-610273846239_story.html?utm_term=.e511ae117456