Serving Up 300
On September 21st, Girls' Volleyball defeated Fenwick in a 25-23, 25-11 thriller at home, giving Coach Eastman and Coach Ryan their milestone 300th win in their 13th season with St. Ignatius Girls' Volleyball. Congratulations to Coach Eastman, Coach Ryan, and the Varsity girls volleyball team! Coach Eastman answered a few questions before the game for the Spirit: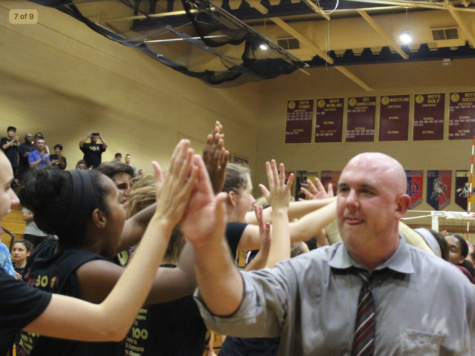 Q: What is your background in volleyball?
A: I didn't start playing until I was a freshman at Quincy University when I made the team as a walk on. I redshirted my freshman year to learn the game, and by the time I was a junior I was captain of the team. I stayed for a 5th year at Quincy to use up my last year of NCAA eligibility. I coached St. Barnabas for a few years, and I coached club ball for about 10 years while I coached at Marist. While at Marist, I started up their girls program, and eventually I took over the Wolfpack girls program shortly after landing the Assistant Athletic Director job at Ignatius in 2005.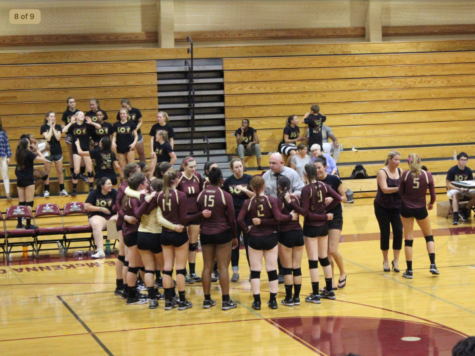 Q: Why do you coach? What drives you?
A: At the beginning it was winning. Over time, however, I realized that I wanted to establish something that the girls would be proud of and want to stay in touch with even after graduation. I hope that even more than the wins and the losses that we are teaching.
Q: You see both sides of the sport…boys and girls? What is that like?
A: Boys and the girls play differently and practice differently. The boys have gotten so much taller even since I played. 6'3″ is almost considered short for the boys side now. The boys are really offensive minded and it's a very fast paced game, while the girls is much more defense and strategy, which is ultimately what drew me to the girls side of the game.
Q: How has the Saint Ignatius volleyball program progressed since you took over?
A: Since we started, some rules have changed that challenged us. The multiplier rule multiplies every Catholic school by 1.6% for every student enrolled. Because of this change, we moved into the top division and startedplaying schools like Lyons Township and New Trier who have thousands of kids. Every year, we've gone out and been competitive and had a chance to win. One of my initial goals upon starting with the program was to finish with at least 20 wins every season. We've accomplished this every season but two since 2005. Another goal of mine was to get a win over powerhouse Mother Mcauley, which we accomplished in 2012. We have been to sectionals multiple times and have been stopped short by either the team to later be named state champions or by our own injuries. We have never had an easy road to success, but we've come a long way and sent 24 girls to college volleyball programs.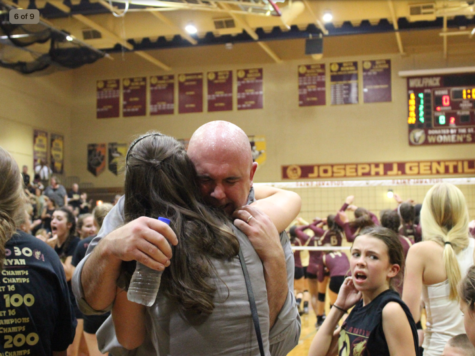 Q: What do you credit with getting you to the place you are today hitting this milestone?
A: The people I put around me. As a coach you have to know that you never know everything all the time. You need to put people in places where they'll thrive, not only when we pick who makes what team, but even with my coaching staff. I have had some great people here that have prepared girls for varsity and also have some alumni of the program that have come back to coach for me. Success is having good people around me and using all of their strengths.
Q: How do you feel about this incredible milestone and all the buzz around it? Any pressure?
A: A little pressure, but it has really turned the corner. What the girls have done in the week and a half leading up to the game has been pretty impressive, upsetting both Loyola and Montini on the road, both top 20 schools in the state. To me, the pressure is really now that we have had this good feeling going and trying to keep that feeling is now the main goal.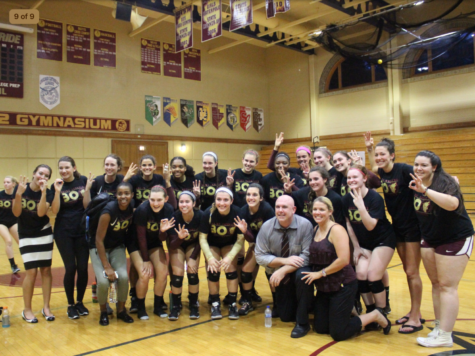 Q: How do you plan on celebrating this achievement?
A: We'll see…tonight will probably just be the team together with alums and getting together to celebrate. At the end of the day though this is one small part of a big season…When it's all said and done, you're only going to remember what happens during the state playoffs. The ones we put on banners get remembered because those are there forever. As hot as we are right now and as much as I want to get to this goal, it's just one more step in getting our team to that next step.
GO WOLFPACK!