Why All The Freshman Sit Together in the Cafeteria
My Discovery of Student Interaction and Non Verbal Messages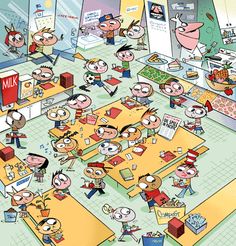 Hang on for a minute...we're trying to find some more stories you might like.
Why DO all the Freshman sit together in the cafeteria?  On one of my first days as a senior I tested the cafeteria during lunch period to see what would happen if I broke the unwritten rule and sat at the Freshmen table.  At first I was met with peculiar stares and awkward glances.  But finally as I clumsily made my way down the long table I was met with a "Why are you sitting here at the Freshmen table?" query from a couple of inquisitive freshmen girls.

I was happy to engage in conversation with the freshman about the idea we all sit together in groups based on unconscious and non-verbal "rules" that the whole school follows.  It is not a written rule students must sit according to class, yet that is exactly what happens everyday during lunch.  Freshmen sit with Freshman, Sophomores with Sophomores and so on.  

Why do we behave uniformly without having a written rule or requirement to do this?  Is this social pattern necessary and what happens when we break the "rule"?  I felt a bit awkward and uncomfortable at first doing the unexpected and unusual.  But once I started a conversation with a couple of students and shared some common experiences, I relaxed and enjoyed the funny circumstance.  We agreed that it is normal to sit in these groups, but interesting that we do this without a rule or with a conscious effort.

This left me wondering about the benefits of stepping outside of what feels comfortable and ordinary.   Although I was a bit embarrassed at first, it has sparked an interest to try another social test in the future.  Try to change your routine just a little bit.  It will surprise you and maybe even make a difference to someone!