Around the World in (Almost) 80 Days
An Overview of SICP Summer Trips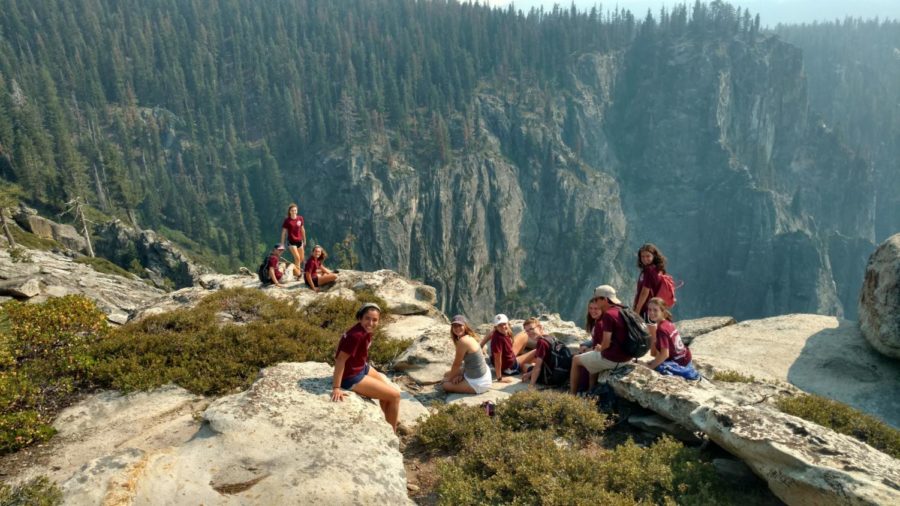 Margaret Fleming, Head Features Editor
October 25, 2017
This summer, SICP sent students around the globe to study, interact with new cultures, bond with friends, and make memories to last a lifetime. Here's an overview of the trips:
Greece and Rome:
Where: Athens, Delphi, Olympia, Mycenae, Tolo, Epidaurus, Corinth, Saronic Gulf Islands, Sorrento, Pompeii, Rome, Ostia.
When: June 11, 2017 – June 23, 2017.
Highlights:
~ "We got to swim in the Gulf of Corinth." – Paula West '19
~ "The food in Italy." – Kennedy Springfield '19
~ "Attending an outdoor Mass with Pope Francis and a procession afterwards…dueling and defeating Mr. Hoarty at the gladiator school…a personal tour of the rooms of St. Ignatius with Mr. Hlabse." – Mr. Sparapani
What students say:
~ "[The trip] made me appreciate the flat ground here in Illinois. It showed me that I really like to travel and appreciate other cultures." – Paula West '19
~"It was fun, but also made me very vulnerable, learning how to communicate with a whole different country." – Kennedy Springfield '19
What teachers say: "I really enjoy giving students the opportunity to see their classroom learning in a wider context… and introducing them to the best gelato places in Rome. It's a key skill to have." – Mr. Sparapani
Model UN in China:
Where: Beijing, Chengdu, Guilin. The World Expo Model UN Conference is held in the outskirts of Beijing.
When: July 30, 2017 – August 13, 2017.
Highlights:
~ "The Great Wall of China." – Jason Kinander '20
~ "When we went hiking on this rice terrace called the Dragon's Backbone…we slept [at a hotel] on top of the mountain that night and hiked back down in the morning." – Delaney Coyne '19
~ In reference to the rice terrace, "We felt like we were in a beautiful Chinese landscape scroll painting." – Ms. Haleas
What Students Say:
~ "There's little pieces of American culture in China like social media"; "I  matured because we had a lot of opportunities to do things independently in China." – Jason Kinander '20
~ "We did a conference with Chinese kids and interacting with them and seeing what their lives are like was really cool"; "Life in China is different because there's so much prosperity but also terrible rural poverty"; "There's like only dumplings in Beijing, which is rude." – Delaney Coyne '19
What Teachers Say: "We visited many historical sites such as the Great Wall, the Summer Palace, Tiananmen Square, the Forbidden City, and the Olympic Village. We then participated in the World Expo Model UN Conference where the SIMUN team won Outstanding Delegation as well as many individual committee awards" ; "When I travel with my SIMUN students, I feel like I am on a cool adventure with interesting people who truly want to engage with the people and culture." – Ms. Haleas
Pilgrimage Club in California
Where: San Diego, Los Angeles, San Francisco, Santa Clara, Yosemite National Park. 5 missions along the coast, the Jesuit Universities of Santa Clara, San Francisco, and Loyola Marymount.
When: July 12, 2017 – July 21, 2017
Highlights:
~ "We went to Yosemite National Park, it's really peaceful and beautiful there." – Emily Duque '18
~ "It was a lot of time in the van!" – Dr. Gholson
~ "Our half-dome hike… twelve people summited including Mr. Weiler and eleven students." – Dr. Gholson
What Students Say: "God isn't just in places like Mass and Eucharist and religion class and the Bible but also in nature and the people and the world around you. You need to take a second to slow down and appreciate it." – Emily Duque '18
What Teachers Say: "We also wanted to add an outdoor aspect…every student had a reading packet, which dealt with the history of the missions, and the history of California, and selections from Laudato si', which is Pope Francis' encyclical that dealt in a large part with the environment"; "We had bear break in two of the three nights we were [in Yosemite]…that was pretty crazy!"; "We got really worn out on the trails, we had campfires every night, it was a lot of fun." – Dr. Gholson
London
Where: London, Canterbury
When: June 5, 2017 – June 12, 2017
Highlights:
~ "We got to see Beautiful: The Carole King Musical, Phantom of the Opera, and a British comedy called The Play That Goes Wrong." – Camille Broderick '18
~ "One of the funniest parts of the trip was on the first day when… I let go of [a] branch to keep walking and it wacked Ms. Lonergan in the face!" – Ellie McCarthy '18
~ "The Tower of London and the Churchill War Rooms were major highlights!" – Ms. Haleas
What Students Say:
~ "Three days before going to London there was a terrorist attack. Instead of letting this attack deter us from going to London, we still went. It was amazing how much London stuck together… this shows me that I need to embrace every opportunity I can get." – Camille Broderick '18
~ "I got to know some of my classmates who I didn't really know better." – Caroline Molloy '20
~ "This trip was a perfect balance of learning and just having fun." – Ellie McCarthy '18
What Teachers Say: "The students enjoyed meeting kids from the other schools and making new friends"; "Students are able to choose their morning excursion based on their area of interest. In the afternoons we all met up to visit [a historical site] and then attended theater performances in the evenings." – Ms. Haleas