Jeff Flake and the future of the senate
Jeff Flake has announced he will not seek reelection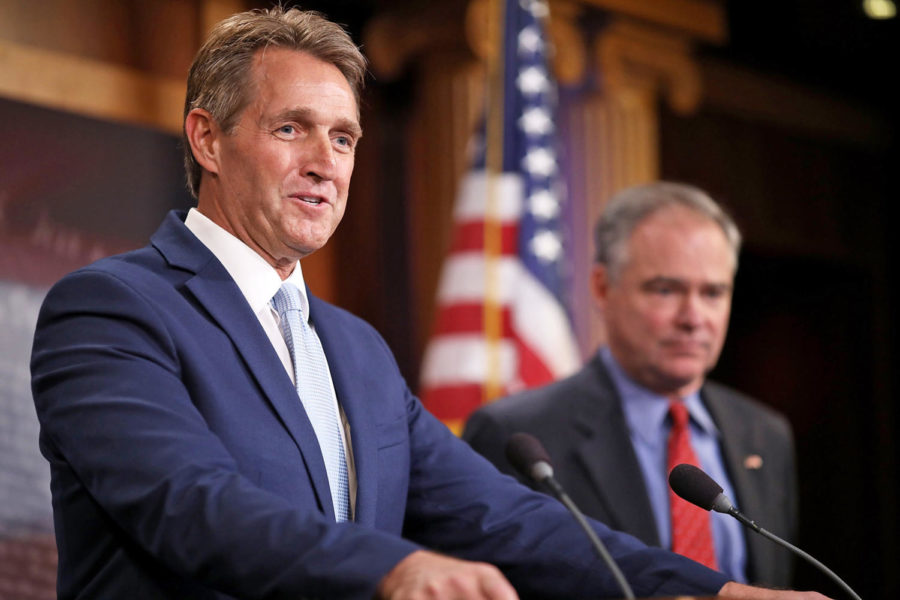 Tivas Gupta, Senior Writer
November 16, 2017
​Jeff Flakes' announcement that he will not seek reelection has been one of the most discussed political events in the past few weeks. Jeff Flake, former senator of Arizona, has been struggling through a period of unpopularity. Voters from the state had been unhappy with his more liberal voting tendencies, and he faced a strong challenge not only in the Republican primary, but also with a Democratic challenger. With these obstacles, it is not much of a surprise Jeff Flake decided not to run again.
​Many in the political arena have attempted to draw further conclusions from Flake's announcement. Trump's supporters have marked this event as a victory for the President. As an outspoken critic of Trump during the Presidential campaign, Flake has always been unpopular with the current administration. Flake refused to endorse Trump when he was a candidate, and spoke out against many of the President's initiatives, including healthcare. Not only has this stance weakened his support in his home state of Arizona, it has also made the target of many of Trump's tweets. For example, Trump tweeted in September 2016, "The Republican Party needs strong and committed leaders, not weak people such as @JeffFlake, if it is going to stop illegal immigration." Trump also tweeted in support of Flake's Republican challenger in the upcoming primary, Dr. Kelli Ward, when she announced she would run. Although he did not officially endorse her, many insiders in Washington expected he would do so. For this reason, Trump's core base saw Flake's announcement as a "win" for the President, marking another establishment Republican gone in Trump's goal to drain the swamp. Breitbart published a story titled, "Winning: Flake Out" when the Arizona senator announced he would not run again. Several Twitter accounts with strong support for Trump echoed similar sentiments.
​On the other side of the political spectrum, Flake's announcement led to much different reactions. Many liberal news outlets hailed Flake's Senate proclamation as "blistering" against Trump, calling the senator a "hero", and praising him for his "devastating indictment" of the Republicans. CNN heralded Flake's proclamation as "the most important speech of 2017." Flake was widely portrayed as acting on his conscience at the expense of his career. Furthermore, many of those who are ideologically opposed to Trump rushed to highlight this event as a prime example of the fracturing of the Republican Party.
​Both sides to this argument have fair points. Opposing Trump in Washington DC now comes with substantial job risk if one is a Republican, and many consider this a victory for Trump. On the other hand, liberals do have a point that the GOP is currently extremely divided, and this leads to difficulties when trying to pass Trump's agenda. However, Flake's decision not to run for office is loosely connected to either of these issues, at best. The truth is Jeff Flake has rarely ever been a popular senator during his term. Statistical analysis website FiveThirtyEight wrote, "Surveys have also generally found Flake to have a relatively low approval rating." The article goes on to note that Flake has very limited Democrat appeal and turns off many Republicans due to his attacks on Trump and softer positions on immigration and gun control. The truth is, Jeff Flake was never going to win in 2018. Deciding not to run in 2018 has nothing to do with his "conscience." Approval levels have sunk down as low as 18%, and the senator was unpopular even before Trump entered the political landscape. Jeff Flake wisely recognized this fact, and decided to remain politically relevant by delivering a fiery speech on the Senate floor on the way out. Instead of trying to draw political narratives from this event, voters should pay attention to more important issues. Arizona has an open seat that should be competitive in 2018. It is the future of the Senate, not the future of Jeff Flake, is what really matters.