Generation XX
Exploring the all boys institution St. Ignatius College Prep used to be.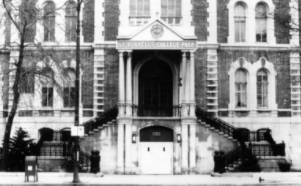 Georgia Goldrick
November 30, 2017
In 2017, St. Ignatius College Prep is much different than the school students attended in the past. From the size of the buildings and classes to school facilities, the old SICP would be unrecognizable to current students. The most notable difference is gender. St. Ignatius was an all boys school from its opening in 1869 until 1979 when the school admitted its first female class. It seems impossible to think of the "Hogwarts" we know so well as an all boys' school falling in disrepair.
In an interview conducted with Mr. Kizelevicus, a retired teacher who taught at SICP for 40 plus years, Dr. Heisler, a graduate of the Class of 1978, and former students, we get an in depth look at what the school used to be. What was it like and how did the coeducational system change 1076 W. Roosevelt Road?
Q. When did St. Ignatius  go coed?
A. September of 1979. -Mr. Kizelevicus English Department 1970-2003.
Q. How long did it take from the time it was proposed to when girls were actually admitted?
A. If I recall, it was about a year and half before the traditional announcement was made. So, it probably started some time, I want to say 1977, was first proposed by Father Bowen that we should study the issue. He started a committee which took every aspect from the costs, to are there any girls that are even interested in coming here, to how would the classroom change? We went out and looked at other schools that had become coed to see how they went about it. The fact of the matter is that most schools, Catholic schools, that became coeducational happened because the girls' school down the block was closing and the boys school said, 'Well, we'll accept the girls.' We, on the other hand had nothing like that. All we did was say, 'Well wouldn't you like to come to our school.' We had no audience as it were that were looking for a school. All of the girls that finally came here, I think in most cases were very happy at the school they were at, but they had the opportunity to come here. So we had a number of girls who did change, I believe the number was 17, 17 senior girls that first year. -Mr. Kizelevicus
Q. What was the reaction when the idea of letting girls in was proposed?
A. Well, at that time, I had two girls of my own, so it was just perfect for me. It really didn't have much of an effect on me in terms of 'I don't want to do that' or 'why are we doing that.' I was on the committee that studied the whole issue. It made sense for a couple of reasons. I would say there was an overall split. There were a great number of people who said to keep it traditional and we have to keep it all boys. It has been, for 110 years, what St. Ignatius has been all about. And then there were other people who said for various reasons, 'No I would like my daughter to go here, I would like someone in my family to be able to go here. I went here and so my sister, my daughter, whoever it might be, should have the opportunity to have a Jesuit education.' There was no other Jesuit school that was coed at the time. So I think it was split, people not particularly in favor of it, but a lot of people who were. -Mr. Kizelevicus
Q. How were the girls accepted?
A. I think they were immediately accepted. I don't remember anyone saying the boys were mean or the boys did this, that or the other thing. I think that the boys were very accepting of all the girls. We took girls across the four years, so we accepted not only freshman, but sophomores, juniors, and seniors. -Mr. Kizelevicus
Q. What did the faculty look like before 1979, was it mostly an all male staff?
A. Let's start with administrators. In 1979 we had eight administrators and no female administrators. In 1980, we had 11 administrators and one female administrator who was the Dean of Students. Teachers: In 1979, we had 41 teachers, and four were female. In 1980, we had 51 teachers and 12 were female. The counselors remain the same. In 1979 we had five counselors, one of which was a woman, and the statistic stands. In 1980 we had five counselors and one woman. -Mr. Kizelevicus
Q. When the number of female teachers increased, were they accepted? How were they treated?
A. Yes. There were a number of female teachers here and they were very good and I think all of the students really enjoyed those teachers as they did everybody. I don't remember any female teacher saying I have a problem with this student or that student, except the typical students. It was not like I'm doing this because you're a woman, generally speaking I don't remember anyone saying what a bad idea this was. -Mr. Kizelevicus
Q. What changes did they have to make to accommodate facilities and more when transitioning to a coed school
A. Basically speaking, one of the points we studied was how much money it would take, but you only have to do two things to a building to make it accommodate female students. One, you have to have bathroom facilities, and number two, you have to have locker room facilities. Otherwise, everything else remains the same. However, that particular year we also did an awful lot of construction. We put in this library and we also had to put in a biology lab and a couple of other improvements we had to make because of the condition of the school, not because of the girls. What we did was take every other floor, the ground floor remained for the boys, first floor was girls, second floor was boys, third floor was girls. Some things never change. -Mr. Kizelevicus
Q. What is the biggest difference between St. Ignatius as an all boys school and St. Ignatius as a coed school?
A. One of the things that would be different is the plays and dances. No girls. So what happens when you have a play that you need girls for? At one time back in the 60s and the 70s, there was a girls' high school about two miles away. It was at Damen and Taylor. That was one of the theaters we would use and it was reciprocal. So when they would put on a play they would ask our guys to perform in it, and when we would put on a play, we would ask their girls to perform in it. Then later on, when the girls school closed, we would get girls from the southside, so Mother Mcauley. Now the other question would be dances. We didn't have as many formal dances as there are now. We had a number of informal dances which I guess we don't do anymore. They used to have sock hops; they would have a dance for an hour after a basketball game.  But because of that, for the informal dances, we had to import the girls. We would send a bus to the southside, we would bring girls from there because the formal dances were date dances. The informal dances, sometimes they would just put out a notice that told people to come. -Mr. Kizelevicus
Q. What are some takeaways as the school has changed so much over the years?
A. When it was all boys, it was a fine school. When there are boys and girls here, it's still a fine school. Have things changed? I think they've changed not because girls, but changed because of the culture. We do things differently because there is a different culture outside, and we need to apply to ten schools because we have to keep up with them. Just overwhelming. The physical plant, the grassy area in front that was a parking lot, the little garden, that was a parking lot. In the course of the last 47 years so much has changed physically about this place. -Mr. Kizelevicus
Q. What specifically has physically changed?
A. The Jesuits would be living here. As a matter of fact, the whole front of the school building was the Jesuit residence. It was off limits to the students. It was kind of a dreary place, the only classrooms were in the back. The McLaughlin building was not in use. The other fascinating point was there was no link between the school building and the cafeteria. Everybody had to run out in the rain, the snow, the cold to get from lunch or to go to lunch. The link was an addition that we put in sometime in the middle '80s. So, it was much much different in that respect. But, we made do, everybody enjoyed the place. -Mr. Kizelevicus
Additional teachers and former students were asked their views on the topic of change at SICP.
Q. What is one of the biggest differences between SICP when you attended and the SICP you work at today?
A. The biggest difference is girls. The girls probably had a civilizing influence on the boys and the teachers. An all-male Ignatius was a crazy combination of a monastery and a locker room. The teachers also no longer swore at the students like longshoreman. -Dr. Heisler Class of 1978
Q. What was your favorite activity that Ignatius had when you attended and does not have today?
A. It was the easy rapport between students and teachers, which I think is now lacking. Teachers used to interact with students more outside of class. I remember one history teacher who would stay after class and answer questions or indulge students who proposed what-if scenarios. These were not assignments and there was no grade or extra-credit involved, more of a meeting of the minds. -Dr. Heisler Class of 1978
Q. Where was the closest school for girls?
A. The closest school for girls geographically was probably St. Barbara on 29th and Throop in Bridgeport. Because of the strong Beverly contingent, there was a strong connection with Mother McAuley. Their girls were our cheerleaders, and they acted the female roles in our school plays. -Dr. Heisler Class of 1978
Q. What was the wildest thing you did as a student at SICP that you think would not be tolerated today?
A. Locker room brawls at lunch, with the class of '74 while no teachers were around. We were found out after a week of trouble. -Joe Goldrick Class of 1975
Q. What was your favorite room to spend time in as a student?
A. It was the cafeteria because we had senior privilege to smoke and hang out–probably where I learned to smoke. -Steve Gallagher Class of 1967
Q. What was the "feeling" St. Ignatius gave off when you were a student? Why was it like this?
A. Since I started in the late 60s, it was a pretty loose atmosphere at SICP, which kind of mirrored the whole country. It was near the end of the Vietnam conflict and lots of protests and hippies around. We had an open campus so guys came and went during the day, sometimes to the 12th Street Beach at lunch. Lots of long hair, some streakers and music. -Tom Goldrick Class of 1972
Whether it's the 1980s or 2017, St. Ignatius is rooted in tradition, faith, and Jesuit values that follow students beyond  high school. Remember as you walk the halls of SICP, you are not only walking to class, but reliving history.