The Not So Silent, Silent, Phase of the Campaign
The Saint Ignatius Administration recently launched a fundraiser for a new Fine Arts Building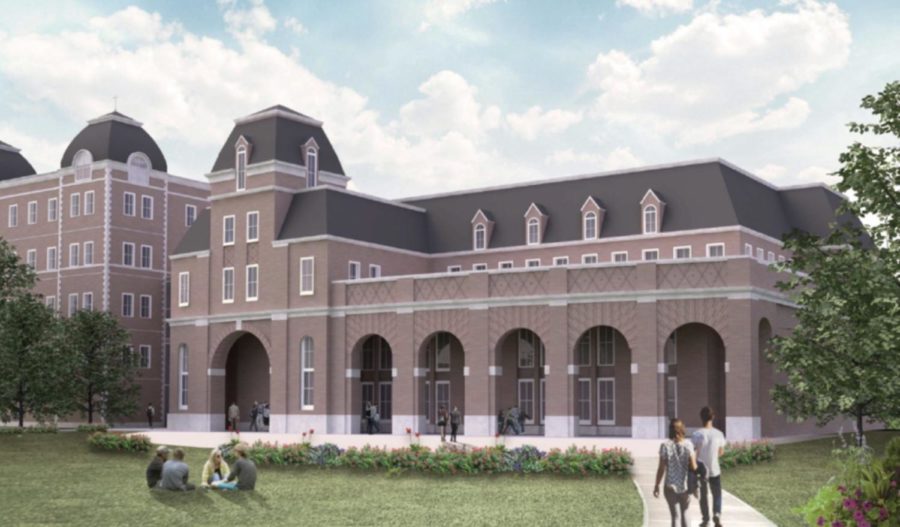 Emma Coughlan, Alejandra Natera, Clarissa Martinez, Senior Writers
November 30, 2017
Saint Ignatius recently announced fundraising plans for a new Fine Arts Building, with the goal to start construction by 2019, potentially located in the current north parking lot. The new building would be funded by donations and  attempt to meet the current needs of the Fine Arts Department.
Presently, the Saint Ignatius Fine Arts Department has problems regarding space for theater productions, band, orchestra, and choir practices and concerts, as well as rooms for the visual arts.
"There is just not performance space for Choir and Orchestra, and Band can hardly fit on the stage. The Fine Arts, the actual visual arts, have programs which they cannot give because they do not have enough classroom space, " said Mrs. Schneider, the Head of the Fine Arts Department.
The new building is estimated to cost around twenty-five million dollars. Vice-President and Development chair, Mr. Chandler says, "We have a number of options in order to achieve the goals and needs of the students both today and tomorrow. And we have plans that range from a very very fine, extensive, and new building that we hope we will be able to fundraise for. It costs about twenty-five million dollars."
The possibility for the construction of a new building remains uncertain because of the fundraising that needs to be done. The school aims to focus on the project during its one hundred and fiftieth anniversary in 2019.
A brochure handed to families during a concert details gift and naming opportunities for sponsors. Included in the brochure are the following:
Building Naming ($15,000,000.00),
Theatre Naming ($5,000,000.00),
Classrooms Naming ($250,000.00 each),
Grand Balcony Naming ($100,000.00),
Breezeway Link Naming ($50,000.00),
Conference Room Naming ($25,000.00),
Various Memorials and Honorariums ($4,075,000.00)
    Senior Harlequins member Liza Spector says, "it's so exciting that finally a fine arts building is being built. Although I won't be able to perform in it, I am excited for the future of Harlequins. Everyone asks how we put on the shows we do, and it's not easy! The new fine arts building gives the Harlequins the opportunity to have an actual backstage, dressing and practice rooms. We have always used available classrooms to store our costumes and don't have an actual space to get ready in before shows. Mr. Bellie does such an amazing job making space work for us when practicing, but it will be nice to have the extra room. Hopefully the new building will encourage more to try out for the shows, too! I'm so excited to see how Ignatius' fine arts department expands and I've already made plans to come back with fellow Harlequin members to see the new space."