Put Christkindlmarket on Your Christmas List
A perfect outing to bring in the Christmas cheer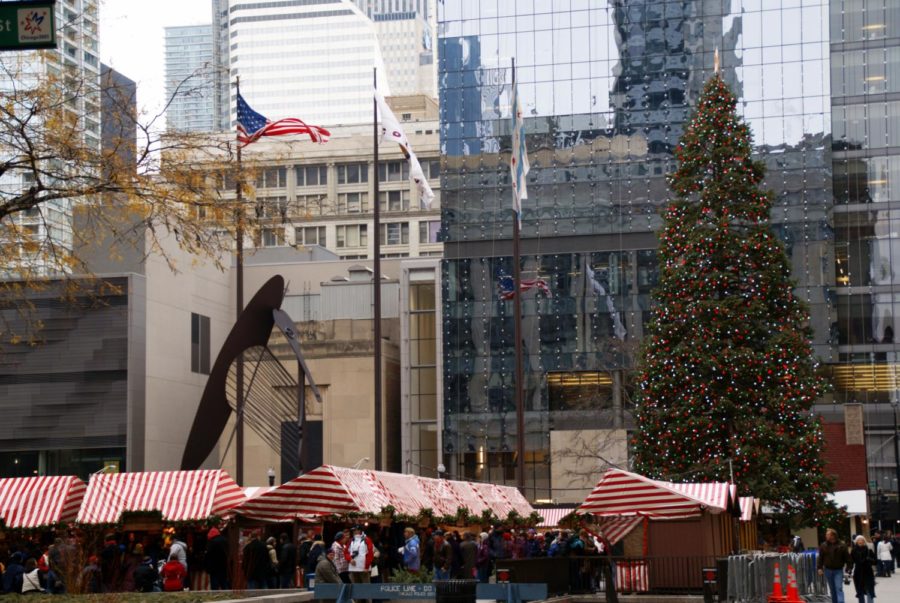 Donovan Powell, Senior Writer
December 7, 2017
     The Christkindlmarket has been a part of Christmas time in Chicago for many years. The fair, taking place at Daley Plaza, has always been a place not only to bring in the holiday spirit, but to bask in German culture as well. It was first formed in 1995 by the German-American Chamber of Commerce of the Midwest Inc. (GACC Midwest) to promote trade between the U.S. and Germany. The event was first held in Pioneer Court in 1996, but moved to Daley Plaza in 1997 by special invitation of Mayor Daley. It is now one of the most popular winter attractions in Chicago for locals and tourists.
     And, for good reason. At this time of year, the Daley Center is turned into a magical winter wonderland. It is filled with little wooden shops draped in wreaths and rope lights. In the heart of Chicago, even though there may be no snow on the ground, the traditional Nativity scene and the large Nutcracker statues bring the Christmas spirit to life. There is even the Christkind at the fair, a fairy figure from German folklore, the face of the Christkindlmarket. She is dressed in white and gold and tells Christmas stories to both the young and the young at heart. On top of all these features, there's a live band performing Christmas music for the patrons to enjoy.
     But, the best part is the food. For lunch, the stands offer traditional German bratwurst, leberkase, which is a pork treat in a bun, and baked cheese. When it comes to sweets, the list is almost endless. Stuffed and regular pretzels, hot chocolate in the special souvenir mugs, chocolate covered fruits, spiced nuts and marzipan, potato pancakes, and even delicious crepes; Christkindlmarket has the fix for just about any sweet tooth.
     The Christkindlmarket is open at the Daley Plaza, as well as Naperville and Wrigleyville, from November 17th to December 24th.