There's No Room in the Inn
The Struggles of the Immigration Process for the Students and Faculty of Saint Ignatius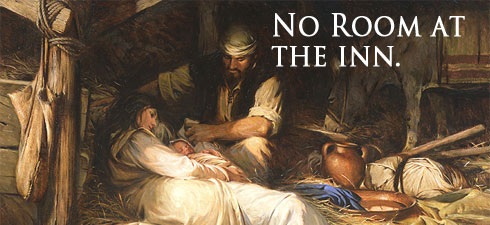 Danny Valdes and Lilly Spalla
December 7, 2017
Since the summer of 2015, one of President Donald Trump's political platforms has been a tougher immigration policy. Within three weeks of his inauguration, he placed travel bans on certain countries, such as Syria, with over a million refugees, in the name of national security. He also limited the number of travel visas given to foreigners and once again economically isolated Cuba. Though a travel ban and a giant border wall may be logical measures for national security, they often dehumanize those affected by such executive decisions. These travel bans may seem like a debate between Democrats and Republicans on cable news, but in fact they affect the Jesuit core values of "men and women for others" and even impact our diverse student body and faculty.
As the holidays approach, Ignatius students think of Black Friday and sunny vacations to the tropics. We can forget there are those in the world with no means to celebrate the holiday. Modern xenophobia is a perfect parallel to what a young Joseph and Mary suffered on this holiday two millenniums ago. "So Joseph also went up from the town of Nazareth in Galilee to Judea, to Bethlehem the town of David, because he belonged to the house and line of David… she gave birth to her firstborn, a son. She wrapped him in cloths and placed him in a manger, because there was no room for them in the inn" Luke 2:1-7. The comparison between these two scenarios is not difficult to make.
Many people come from nations that allow more liberal travel, such as two of our Chilean exchange students, Vicente Silva and Nicolas Parra. Attempting to arrive at this nation's "inn" proved difficult even for them on a student visa from the most economically stable nation in Latin America. Extensive interviews, vetting processes, and unreasonably expensive application payments only hinder those from entering the United States by only allowing those from higher social classes to apply. Some are not applying for visas due to safety issues in their home country, but rather for economic and educational opportunities or desire for U.S. citizenship, just like Madame Guiu in the French department.
Not all who study and work at SICP have had such success in acquiring any "room" at the inn. One example is Marilyn Tesi '18, who lived in Venezuela for the first twelve years of her life. Each year the country's situation worsened under the socialist Maduro regime took hold. Inflation and crime rates are growing dangerously high. In 2011, her mother was kidnapped and held for ransom. Although she was missing for less than a day, her family knew it was time to leave the country. They immediately fled and bought plane tickets to Chicago. Unfortunately, they had to leave behind her father and most of her family. President Trump made Venezuela the most recent country on the travel ban effective October 14, 2017.
On January 17th of this year, the Obama administration's dying act was to terminate the "wet-foot-dry-foot" policy established in 1966 under the Johnson administration and reformed in 1995 by the Clinton administration. This is an example where people in economic isolation and living under a dysfunctional regime have the freedom to seek asylum in the United States removed. My father arrived from Cuba in the 1970's in my grandfather's effort to escape the People's Revolution. The removal of such a policy and the tightening of immigration in the country makes us as Americans seem no better than those who denied Mary and Joseph a place at the inn.
       After looking at the experience of the Chileans, Marilyn, Madame Guiu, and even my own family, it cannot be overlooked that simply gaining access to the country is only half the battle. Moving to a strange place is extremely difficult, especially if you cannot speak the language. When under pressure, newcomers repeatedly struggle with understanding English and are unable to communicate with people. In Venezuela, Cuba, and Chile, people are more friendly and unafraid to open up about their lives, even if they do not know each other very well. Marilyn noticed the lack of community in America.
In addition to the lack of family, each immigrant noticed the strong and peculiar obsession Americans have with consumerism. Madame Guiu was born in Romania while the Iron Curtain still stood. As a child, her Christmas presents were fruit, not tackling people at Best Buy for a flat screen television or spending four hours swiping through Amazon on Cyber Monday. The Chileans have noticed a superiority complex in Americans. By gloating on how much influence we have over the world, we simultaneously overlook how much harm we have done to other governments, such as Chile's in 1973. "I watch the news and see the politicians talk about how much they hate Russians for getting involved in foreign conflicts, while Chile suffered a right wing dictatorship under Pinochet," they said. General Pinochet rose to power on September 11, 1973 in an American staged coup that caused the Chilean people oppression for decades. Once again, this turmoil transpired in the name of the United States' national security.
Starting fresh proved to be a challenge for each expat interviewed. "Although I now understand the American culture more and I follow it in order to feel at home, there are still some social aspects that I cannot comprehend. My values are very stable and they are formed of two different cultures so the clash between them will always exist," Tesi said.
The month of December is here, and the sales are on. The airfare goes up as well as stress levels. During this holiday season, we must never forget we are all humans created equal in the image of God. Christmas represents the day Christ was born human. We, as Ignatians, must keep true our most sacred value of being men and women for others.