In Memory of John McCain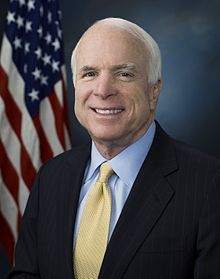 Lydia Sidrys, News Editor
September 18, 2018
John McCain, the son of a Navy admiral, not only served our country as a Vietnam War Veteran and as a Senator, but he also has wholeheartedly embraced and encapsulated the American right of free speech, not being afraid, or unwilling, to share his voice and speak his opinion. Born at the Coco Solo Naval Air Station in the Panama Canal Zone, John McCain grew up moving between naval bases, eventually joining the Navy himself, as he graduated from the Naval Academy in 1958. McCain volunteered for combat after the outbreak of the Vietnam War. His jet, an A-4 Skyhawk, was shot down during a bombing raid over North Vietnam on October 26, 1967. During this crash, McCain broke both arms and a leg, as well as he was taken as a prisoner of war, being moved to the Hoa Loa prison in December of that year.
Eventually, his captors realized that he was the son of a high ranking military officer; they offered him early release multiple times, but McCain refused every time, as he did not want to break the military code of conduct, nor did he want to give the Vietnamese a vital piece of propaganda. Throughout the war, McCain spent over five years in a variety of prison camps, spending over three of those years in solitary confinement. He was finally released in 1973, having lost most of his physical strength. Despite this setback, McCain was determined to continue to serve America. After nine months of rehabilitation, he returned to duty in the Navy, though his injuries had clearly impaired his ability. However, not all of the doors were closed for McCain, as he was assigned the Navy's liaison to the Senate in 1976, creating new opportunities for him in politics.
In 1982, McCain was first elected to the U.S. House of Representatives. He quickly adapted to the life of politics, being a loyal and outspoken supporter of Ronald Reagan and the "New Right" administration. In 1986, he first won a seat in the U.S. Senate, representing the state of Arizona. Throughout his political career, he was unafraid to speak out for what he believed in, even if it means going against his own party. He represented Arizona for many years, easily winning reelection five times. In 2008, he ran for president, winning the primary nomination, but he eventually losing the General Election to Barack Obama. He was diagnosed with brain cancer in 2017. He underwent treatment for over a year, before ending his treatment in August of 2018. John McCain, an American hero in many respects, died on August 25, 2018.