Taylorgating
Every Ignatian has experienced the difficulty of finding a place to eat before a football game. Hoards of students can be found aimlessly wandering down Taylor Street only to settle on a restaurant that satisfies solely the need of hunger, but not enjoyment. Problems often persist such as price, group size, and taste buds. With these five restaurants, students of Saint Ignatius will have an easier time finding a good meal before cheering the Wolfpack on to victory.
Busy Burger
First stop is a Saint Ignatius classic: Busy Burger. This easygoing burger restaurant is the perfect place to grab a burger and fries with a group of friends. The space has large booths that accommodate groups of six people or tables that are meant for two. Customers can order a classic "Busy Burger" that includes a beef patty, lettuce, tomato, onion, pickle, and the restaurant's signature spicy sauce. However, if one's taste buds are calling for something a little bit more adventurous, they can order a fish sandwich or even wrap their sandwich in lettuce rather than a bun. Busy Burger also has vegetarian options, such as a portobello sandwich and a tofu sandwich. The best part about this versatile burger joint is that they offer a 10% discount if shown a student ID. To top off a great burger, one definitely cannot forget a chocolate, vanilla, or even spotted cow shake!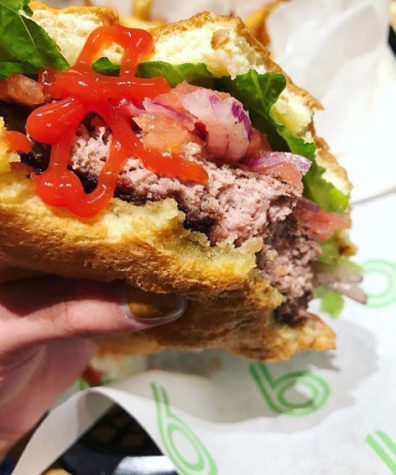 Pompei
Next option for a bite to eat is Pompei. Located just a fifteen minute walk from Saint Ignatius, Pompei is a great place to enjoy Italian food with a large group. Paying is simple because everyone orders for themselves, so worries about splitting the check are nonexistent. There are also large tables where a whole sports team can sit. One can order anything from pizza to pasta to sandwiches. Pompei offers both housemade and imported pasta and the sauce can be chosen for each order. If one is craving something healthier, Pompei offers twelve salads to satisfy the nutritious desires. Prices are also friendly, as a slice of cheese pizza is only $3.50. After a filling Italian meal, students can order a dessert ranging from gelato to tiramisu.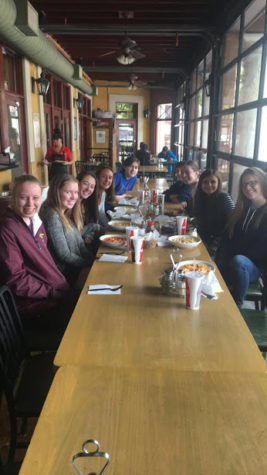 I Dream of Falafel
The third choice is I Dream of Falafel, or IDOF. This restaurant is a trendy, Mediterranean, and under a five minute walk from Saint Ignatius. Hungry students can create their own wrap, pita, bed of hummus, or cyo plate. Each order can be customized with different types of proteins, toppings, and sauces. However, IDOF also offers signature "chef inspired" dishes, such as the Falafelicious Wrap and Mediterranean Chicken Salad. The IDOF fries are perfect for a student who missed out on the classic fries in Tully Hall at lunch. Students who are wandering Taylor Street in search of a healthy option can stop by IDOF to enjoy a nutritious meal to start off Friday night football on the right note.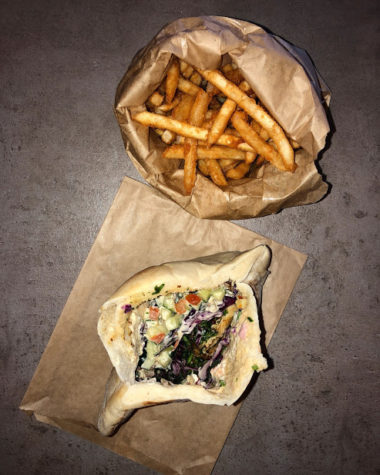 Tuscany
Another restaurant on our list, Tuscany, is the restaurant for Saint Ignatius students who are searching for a classy atmosphere to enjoy a delicious meal. Each dining experience is commenced with bread and "Italian peanut butter," better known as olive oil and crushed roasted garlic. This Italian restaurant is a hidden gem that can be found by turning right instead of the usual left on Taylor Street. Students can enjoy an authentic Italian appetizer of bruschetta and then continue with pizza, pasta, chicken, or steak. One of the best items on the menu is the classic Spaghetti Pomodoro. Tuscany is pricier than the other pre-football game eating locations, but the food is definitely worth the price. If a delicious appetizer and main course does not satisfy the hunger, Tuscany offers desserts including chocolate mousse cake, tiramisu, cannoli cake, and more.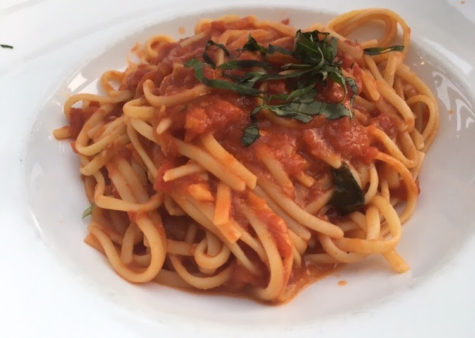 Scoops
This last option is for students who want to divulge in their sweet tooths. Scoops is a great spot to grab a scoop of ice cream. One can choose from countless creative flavors, such as Zanzibar Chocolate, or classic flavors, such as chocolate chip cookie dough. If hard scoops are not going to satisfy the taste buds, Scoops offers soft serve ice cream as well. The fun factor increases because their cones are adorned with oreos, sprinkles, or M&M's. Their menu also offers an array of loaded sundaes with enticing names including "Strawberry Short Cake Explosion" and "Turtle Parfait." After a chilling ice cream, students can bundle up in their Wolfpack Spirit Wear and cheer on the Wolfpack as fall quickly approaches.