Saint Ignatius Through The Eyes of An Exchange Student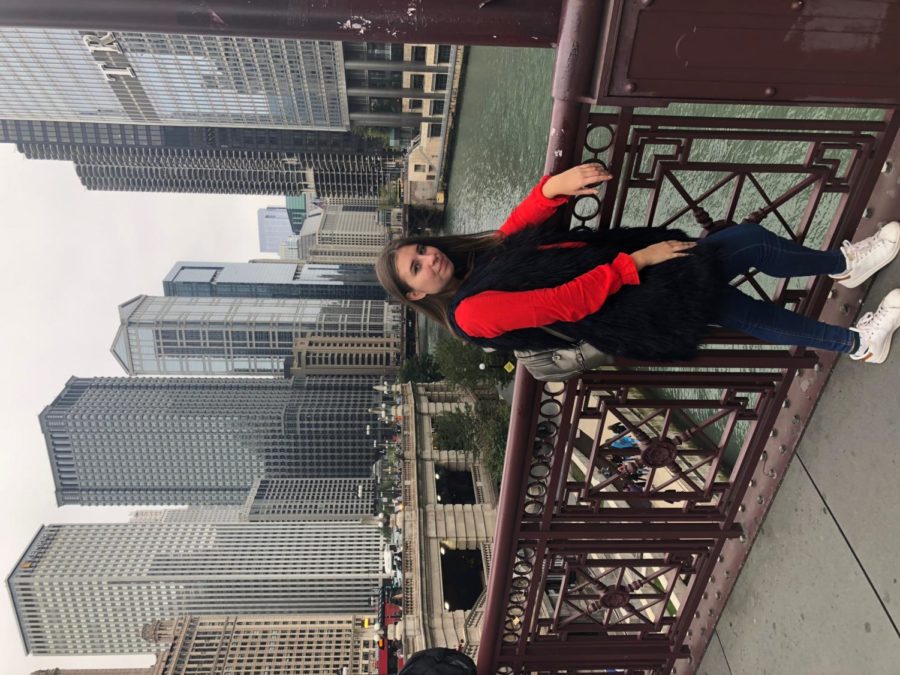 Have you ever wondered what it would be like to pack your suitcase, say goodbye to your family, get on an airplane, move to another country, live with a brand new family, and attend a new high school for a school year? Conversely, what must this experience be like for an exchange student to arrive in Chicago and attend Saint Ignatius? Some of you are acquainted with Simona Mažeikaitė. Her story is a fascinating one. Simona attends Kaunas Jesuit High School in Kaunas, Lithuania. She entered the competitive exchange student program, realizing that her acceptance was most likely a long shot. She was accepted on her 17th birthday.
She explains it was very difficult leaving her friends, family, and the life she was accustomed to, but she knew she was going on an adventure that would change her life forever.
After spending the last few months in Chicago, Simona pointed out the similarities and differences between Kaunas Jesuit and Saint Ignatius, and between Lithuania and Chicago. At Kaunas, they have about 700 students. They have more of a predetermined curriculum, and starting junior year, they choose one subject to focus on. They do not use iPads, rather write everything by hand. They have 45 minute class periods and a 10 minute break in between. They have much longer lunch breaks — she says she is still adjusting to our 25 minute lunches. Another interesting thing is they can go to the bathroom any time they want during class without having to ask for permission. Unlike Americans, Lithuanians never make short conversations, like asking "how are you?". To make friends in Lithuania is more difficult because when you do, you know they are friends for life.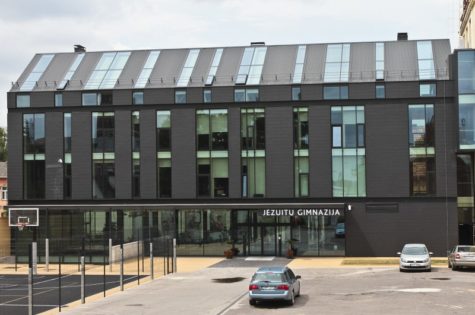 In Lithuania, Simona is involved in many clubs and sports. She explains that baseketball is the "second religion in Lithuania." A normal outing with friends includes going to concerts, going to the movies, staying home and singing and dancing, and traveling around Lithuania and sometimes even Europe.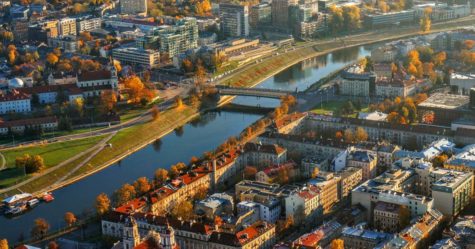 Simona is very fond of the diversity Ignatius offers, whether it be a diversity of classes, teachers, clubs, activities, or students. She explains that there is "something for everyone". She especially loves her acting class. She also loves Chicago — the architecture, many cultures, and buzz of the city. She really enjoys going to football games, going to the opera, and exploring the city on the weekends. She says Lithuania is much different. It has less skyscrapers and more green area. The towns in Lithuania also have more of a historical feel.
Simona as been fortunate enough to live with the Sidrys Family, Lydia ('20) and Will ('22), who also come from a Lithuanian background. Lydia says, "Hosting Simona has given me a more global perspective on the world, as well as it has been a lot of fun!"
When asked what has inspired her during her time here, Simona says, "People. I have met so many different people with different world perspectives, values, believes, and dreams. It just teaches me that whatever you can dream, you can achieve." She explains, though, that the people she has encountered at Ignatius and in Chicago are quite different than those in Lithuania. She says, "I have seen that you don't often realize how much your lives are rushed. You are constantly running everywhere and barely finding the time to just sit and have a cup of tea and chat with a friend. You are often so focused on being the best, that you don't always stop to appreciate the small things in life."
We ended the interview talking about what she will take away from here experience living in America and attending Ignatius. Simona said, "I will take away many things. The main things, though, are acceptance and patience. Accepting that everyone is different and having the patience to understand that life has its own plan. Also my time management skills are much improved!"
I think we can all take something away from Simona's words of wisdom as well. The first is to take the time to slow our lives down and appreciate the small things in life — be thankful for the many important people in our lives. We need to spend less time competing with one another and more time helping each other. As Les Brown says, "Help others achieve their dreams and you will achieve yours". When you see a classmate struggling, offer to help them. Compliment teachers on particularly good lessons. Congratulate people on their successes. And when you see Simona in the hall, be sure to stop and introduce yourself. At Ignatius, we pride ourselves on diversity, and she is the perfect example of an interesting person with unique life experiences we should all get to know. Try the Lithuanian custom and invite her for a cup of tea sometime! You won't regret it!