Father Boyle Opens Our Eyes to the Importance of Forgiveness and Kinship in Our Lives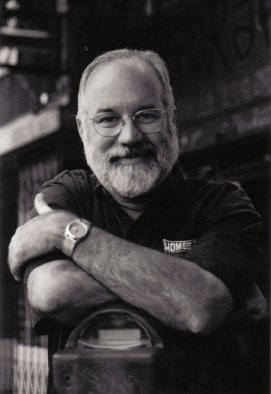 Forgiveness. It is one of the most difficult concepts for people to enact. Choosing to see people for their best qualities, rather than their worst. Not judging people based on one regrettable action, but based on all the good they do. This is much easier said than done. There are some things that happen to people in life that seem impossible to forgive. One may wonder what good could possibly come out of it. This is why Mahatma Gandhi said, "Forgiveness is the attribute of the strong". It truly is a difficult task to forgive.
This brings us to the theme of our most recent Ignatian Values Day. It can be agreed this was one, if not the most, moving IVD speakers experienced by the Ignatian community.
For those not fortunate enough to experience this remarkable man, Father Gregory Boyle, S.J. is the founder of Homeboy Industries in Los Angeles, the largest gang intervention, rehabilitation and re-entry program in the world. Homeboy Industries employs and trains former gang members in a range of social enterprises, as well as provides critical services to 15,000 men and women who walk through its doors every year seeking a better life. Homeboy Industries learned over time that jobs are probably about 80% of what these people need to redirect their lives. The other 20% is a mixture of therapeutic and support services. So, in addition to paying men and women to receive job training, they also require that they spend part of their working day working on themselves. They offer education, therapy, tattoo removal, substance abuse treatment, legal assistance, and job placement services.
The first two speakers were John Johnson and Hugo Gonzalez, both former gang members and prisoners, one only 10 weeks out of being in prison for 18 years. The way they talked about the inspiration Father Boyle has brought to their lives was truly inspiring. Many were caught wiping away tears. The courage it took for them to share their stories to a room full of teenagers was monumental. They were both extremely eloquent and motivating. There was true redemption in their eyes.
Father Boyle humbly took the stage after. His speech took the audience through a range of emotions, from laughter to sorrow. He told many stories about the people he has come across in his life — the effect Homeboy Industries had on them and the lasting impact they had on him. He told of many instances where former rival gang members with a great deal of history came together to work for the greater good of the community. Father Boyle focused much of his discussion on the idea of kinship, what he describes as "not serving the other, but being one with the other". Ignatians pride themselves on the motto "men and women for others". He explains though that, "Jesus was not a 'man for others' — he was one with them". "There is a world of difference in that", he says.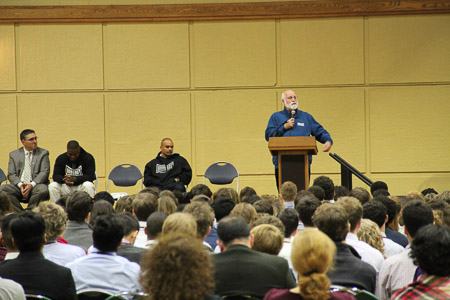 Some of the students had the opportunity to have lunch with Father Boyle and the "Homies". One of these students, Margaret Fleming, said, "It was really special to have a conversation with Father Boyle and the Homies and get to know each other in a more personal way."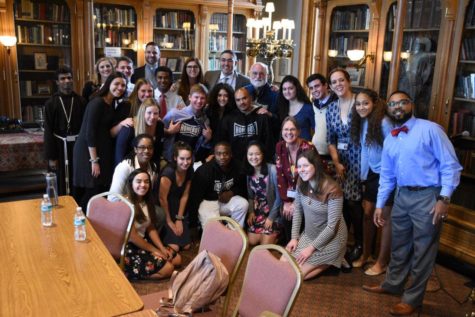 Father Boyle writes in his book, Tattoos on the Heart: The Power of Boundless Compassion, "Close both eyes see with the other one. Then we are no longer saddled by the burden of our persistent judgments our ceaseless withholding our constant exclusion. Our sphere has widened and we find ourselves quite unexpectedly in a new expansive location in a place of endless acceptance and infinite love." Less time needs to be spent judging one another and more time showing acceptance and compassion for each other.
Forgiveness can be precarious. It's one thing when a victim forgives their perpetrator. It's another matter for how society judges a perpetrator and for how society treats them after they have served their sentence. Another recurring dilemma is how to distinguish between good people who do bad things and bad people who do good things. Do both deserve to be forgiven and do both deserve a second chance? Perhaps even more difficult, can you forgive an individual who has no regrets or remorse?
These questions and perhaps others are extremely heavy and complex. They may be best suited for discussion and debate in a morality and ethics class like Father Taber's. That is the beauty of Saint Ignatius. Students get exposed to these issues through IVD, and then explore the answers in the classroom. Most teenagers aren't going to council gang members like Father Boyle. Yet young people all face issues on a regular basis where forgiveness is the answer. Teens, after all, are simply trying to do their best. Mistakes are made. It is inevitable. But accomplishments outweigh occasional mistakes. Let's choose to see the best in people. Let's forgive when the situation presents itself. Everyone would like a second chance and at times be forgiven. It is because of this that we share such a strong kinship. As Father Boyle wisely says, "Kindness is the only strength there is". We gain strength from each other — the good deeds we do and the forgiveness we give. Let's continue to give each other strength and be one with others.