Ignatius Mock Trial Wins Championship
Hang on for a minute...we're trying to find some more stories you might like.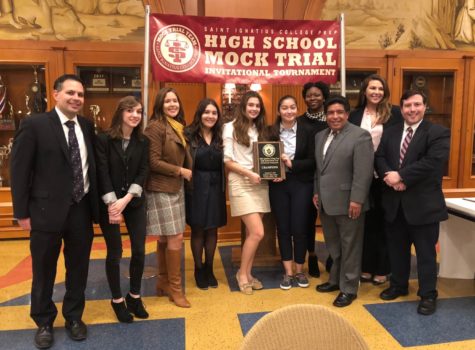 Saint Ignatius Mock Trial Places First in Invitational
Congratulations to the Saint Ignatius Mock Trial Team! They placed first place in the annual Saint Ignatius Mock Trial Invitational, at the Richard Daley Center, on October 27th. The students on the mock trial team imitate trials, acting as attorneys and witnesses who have to build a case and argument based off a provided affidavit, a sworn testimony, then present it to judge and jury. The team competes against other schools, with the jury deciding who has the best case presentation. The team members learn valuable skills such as public speaking, thinking on their feet, and a general understanding of how the law and court system works in the United States.
The team competed in different rounds, against schools such as Legal Prep and Trinity. The Ignatius prosecution team advanced to the final round and won. The winning team was made up of attorneys Elisabeth Paskali '20, and Isabella Rosinia '21, and witnesses Angelina Galullo '20, Allyssa Cabrera '21, and Tomiwa Adesina '22. The girls were coached by Ms. Sonia Antolec, Mr. Geoffrey Hammond, as well as help from Ignatius alumni such as Mr. Mark Abraham and Ms. Alana Long. The team was given a case packet in September, studied hazing and involuntary manslaughter in depth, and then tried to prove the defendant guilty of these crimes. The event was moderated by real Cook County judges, including two judges who attended Saint Ignatius, who gave the all-female team good advice as they advanced. The jury was made up of Loyola University students and professors. Elisabeth Paskali '20 enjoyed the experience saying, "After this competition, I am really considering studying law in college. I had such a fun time and I really learned how to think on my feet and get over my fear of public speaking." Mr. Hammond agreed saying, "It is such a fun environment to learn about the basis of law, and it looks very good on college applications because schools know you can think critically." Congratulations to the Saint Ignatius Mock Trial team!