I, Justine
If you ask to see senior Justine Ferrer's passport for her last two years of travel, you may be curious about what has taken this St. Ignatius senior to Croatia, France, Germany, Sweden, and Switzerland. The answer is trophies and medals.
Skating around the world, Ferrer and her synchronized skating team are tallying the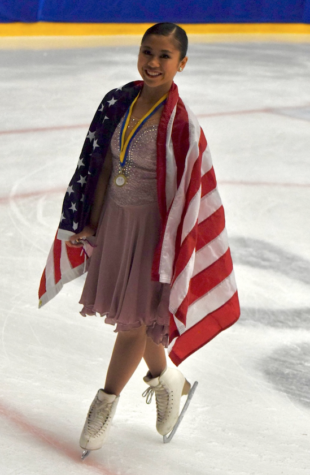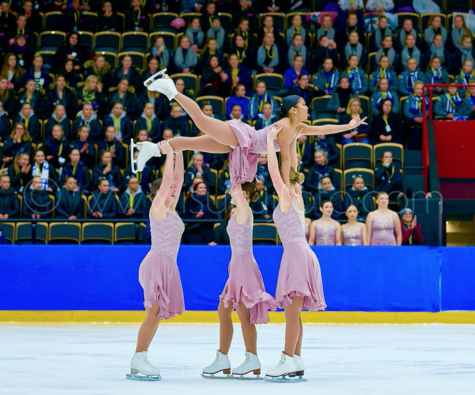 frequent flyer miles as they compete and place around the globe.
Ferrer is a member of the synchronized skating team for the Starlights Synchronized Skate Club—an internationally acclaimed ice-skating organization based in Chicago. The team has competed and placed at many international events in Europe over the last two years, and now has earned the privilege to represent the Unites States at the Junior World Championship in Switzerland.
"I started out watching my older sister skate. It was really cool watching her, and I always wanted to try it," Ferrer said. Ferrer skated recreationally in grade school. "When I entered high school, I really wanted to challenge myself so I joined the Starlight Club," said Ferrer. 
Ferrer describes her daily time management effort as "enormously challenging" as she balances the work load of St. Ignatius academics and competitive skating, but she says her teachers have been very agreeable to her demanding travel schedule as long as she communicates. 
"I have practice everyday of the week—two hours on school days and four hours each day of the weekend. I am also required to skate by myself," said Ferrer. If skating and school were not enough, Ferrer enjoys hanging out with friends and cooking in her free time. Be careful not criticize the meals she prepares, as Ferrer holds a second-degree black belt in Karate.
Synchronized skating is a team sport in which 6 to 20 figure skater perform a program together on the ice. The team moves as one unit, executing in unison intricate skating steps and formations on the ice that include spins, lifts, circles, and other difficult movements. 
Each member of the team must be a strong figure skater. The team skates to music when competing, moving seamlessly through formations as they move in unison. Skaters are judged according to the same criteria as singles or pairs figure skating, with the additional challenge of executing every move in unison.
The International Olympic Committee did not select synchronized skating as one of the new sports for the 2022 Olympic games in Beijing, China. "Unfortunately, the Olympic decision is wrapped up in politics and money. The decision is personally very disappointing," said Ferrer. 
For now, Justine is focused on finishing strong at St. Ignatius and preparing for the Junior World Championship competition. Looking forward, Ferrer looks forward to skating at Miami University in the fall. After her skating days are over, Ferrer aspires to stay with the sport as a coach or judge.