The Year of Women
In 1992, following the Anita Hill hearings and the confirmation of Clarence Thomas to the Supreme Court, there was a four percent increase in the amount of women elected to Congress. It was dubbed "the Year of the Woman". Now, in 2018, following the Dr. Christine Blasey Ford hearings and the confirmation of Brett Kavanaugh to the Supreme Court, there was a three percent increase in the amount of women elected, ensuring the class of the freshman class of the 116th Congress is the most diverse in American history. It was the Year of Women once again. It seems although politics hasn't changed too much since then, as we see mirroring situations 26 years apart. However, I certainly hope that the dynamic group of women who will place their hands on Bibles, Torahs, and for the first time, Qu'arans, to be sworn into office will move our country forward.
Through my role overseeing expansion and coordinating with states in the High School Democrats of America, and through staffing a congressional primary and general election, I've had a lot of exposure to the amazing candidates who made waves in 2018, and delivered the House majority to the Democrats. Amazing women, on both sides of the aisle, ran and lost this election, and I sincerely hope they use their loss to propel them to another election and a victory. When our elected officials reflect the American population, they better represent us- us including the 51% of the population who are women.
However, 36 women new women will join the U.S. House of Representatives, joining over 70 incumbent women, meaning that for the first time in American history, there will be over 100 women in the House. In no particular order, here are some women I'm excited to watch in Congress:
Lauren Underwood (IL-14) I had the pleasure of working for Lauren during the general election. She is a registered nurse who worked for the Department of Health and Human Services under President Obama, and taught in the School of Nursing and Health Studies at Georgetown University. Lauren is dynamic. She can light up a room while sp
eaking, and above all else, she is a bridge builder. Many skeptics doubted how she'd pull off a victory as a single woman of color in a majority white and married district, but her tenacity, intelligence, and grit propelled her to victory against incumbent Congressman Randy Hultgren. With all the debate on the future of the Affordable Care Act, Medicare, and Medicaid, her voice and expansive knowledge of healthcare will play a critical role in the House.
Carol Miller (WV-03) Every woman on the list of the Freshman Class of the 116th Congress is a Democrat, minus Carol Miller. The only new Republican woman in the House, she will be someone to watch for in not only governing, but in the media, as the Republican Party has come under fire for diversity in its ranks. West Virginia is one of the states most impacted by the opioid epidemic, and her work in the West Virginia State House on the issue propelled her to Congress. Miller will likely have her pick of committee assignments and be a key player in the House agenda to combat the opioid crisis, especially due to her support of and close relationship with President Trump.
Abby Finkenauer (IA-01) While her other 29 year old counterpart, Alexandria Ocasio Cortez, gains the majority of media attention, I'll be keeping a closer eye o
n Finkenauer's work in the House. She and Cindy Anxe became the first women elected to the House from Iowa, and she won as a 29 year old state legislator, still paying off student loans, running against millionaire incumbent Rod Blum. Coming from a union stronghold hit hard by agricultural tariffs and a top DCCC red-to-blue recruit, Finkenauer will likely be given committee assignments dealing with agriculture, meaning she will have a say in the crucial farm bill. Finkenauer also became the first freshman member to pass a bill in Congress.
Sharice Davis (KS-03) Sharice Davis will be one of the two first Native American women in Congress, who unseated incumbent representative Kevin Yoder. An Obama White House lawyer who worked during the transition to Trump's presidency, she was an MMA fighter before beginning her legal career, and holds a Juris Doctor from Cornell. Her race in Kansas was a bellwether race, and she ran on a platform that encompassed both moderate and progressive positions. Her historic win, coupled with her more mainstream beliefs and swing district position, will likely land her favorable committee assignments to ensure she has good work to tout for her district.
Abigail Spanberger (VA-07) Abigail Spanberger's race was a bellwether Test for a Democratic Majority, but she wasn't an ordinary candidate. A former CIA agent, she was propelled to run for office by her Congressman's vote for the repeal of the affordable care act. She is a frequent on news shows since her win, but her best media moment by far is the picture of her daughter crawling between her legs as she gave her victory speech on election night. Many have already talked about the possibility that, if re-elected in 2020, Spanberger may ru
n for higher office. Her background in national security has led many political commentators to view her as a future presidential candidate, so watch for her in Congress as a member of the moderate New Democrats Coalition.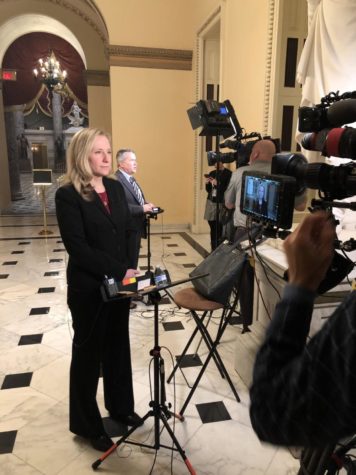 Elissa Slotkin (MI-08) The first time I watched Elissa Slotkin's campaign video, I was in a campaign office for Marie Newman, and watching it, she turned to me and said "We're going to vote for her for the Presidency one day." I couldn't agree more. Slotkin, who was featured in an Economist article for winning her race in a gerrymandered rural and suburban district, was a Middle East analyst for the State Department and CIA and did two tours in the Middle East. She ran on a platform of national service, bipartisanship, infrastructure repair, and affordable healthcare. All off  these issues will be key in the 116th Congress, and if she makes it past reelection in 2020, she is a contender for higher office.
Katie Hill (CA-25) A California political operative told Katie Hill that "No man could beat Steve Knight," and she decided that a woman could.  On election night, people were impressed by her win as "the most millennial candidate or 2018". I was happy to see her talk about issues that matter to young people, like student loans. Hill's impressive win comes off her work leading the largest homeless advocacy organization in California. Many issues, like affordable housing and the minimum wage, that she tackled in her previous work are on the agenda of the House Democrats, so she has a firm grip of policy to be a leader on these issues. She was elected by her colleagues to be the Freshman Co-Representative to Leadership in the 116th Congress and was the first Member-elect to present the Democratic Weekly Address.
Debbie Mucaseral-Powell (FL-26) I first became aware of Mucaseral-Powell from my friend Will, who would go on to be one of the youngest full time staffers on the Hill in her office. Debbie ran in the key swing state of Florida in the battleground of Miami-Dade County. An immigrant who grew up working to provide for her family, who became a non-profit leader, she understands two issues that will be important in this Congress: immigration and poverty. Outside of those issues, she, like much of the Florida delegation, is focused on climate change, which is getting a select committee in the 116th Congress. Mucaseral-Powell, like many women on this list, has the potential to reach higher office, and will play a large role in the 2020 presidential election trying to help her party win Florida.
Jahana Hayes (CT-05) Jahana Hayes took over a seat mired by a sexual assault scandal, and made history by becoming the one of the first black women elected federally in New England. She was named Teacher of the Year amongst fifty finalists in 2016, and received the honor from President Obama. She brings an important perspective as a public school teacher as Congress discuss issues like student loans and universal early childhood education. I'm looking forward to seeing Hayes' leadership on these issues.
Lizzie Fletcher (TX-07) Fletcher's election made waves in the primary and general election: she was in a competitive primary with Laura Moser that went to a runoff, and her general election was a bellwether race for the House. Fletcher is a lawyer and women's health advocate whose Houston suburb seat largely affluent and well-educated, and formerly the seat of President H.W. Bush. A part of the changing face of Texas politics and the Democratic electorate, Fletcher is a rising star. With her previous work in healthcare advocacy, she joins a Congress that will take on the issue of the Hyde amendment and continue to monitor recovery in Texas after Hurricane Harvey.
And for a final wrap-up, the two incumbents I'll keep an eye on:
Nancy Pelosi (CA-12) Nancy Pelosi and I first met when I was going into my junior year: I shook her hand and her mere presence exerted the gravity of her position. Speaker Pelosi is the most 
powerful woman in American history: the first, and only female Speaker of the House who has gotten the farthest of any woman in the line of succession. Pelosi has been hailed "the best vote counter to walk the halls of Congress in modern American history" and in her first speakership, lead one of the most productive Congresses in history. Hailed with passing the Affordable Care Act, her role in healthcare debates will be critical, as Pelosi ensures her members are protected from tough votes. Don't expect to see radical bills, namely, Medicare for All, brought to the House floo
r. She will try to shelter her members in swing districts and lead an agenda that will try to ensure she keeps her majority in 2020.  
Elise Stefanik (NY-21) Before the 2018 election, Rep. Stefanik was the youngest woman elected to Congress. She decided to leave her role in leadership, heading recruitment from the Republican National Congressional Committee, to work in primaries to elect more Republican women. The Republican's issue of electing women mirrors the Democrat's same issue in the 1980s: women won at equal rates in the general election, but getting through primary competitions was a challenge. On the Democratic side, the political group EMILY's List galvanized support for women candidates around women's rights issues, and changed the face of power for Democrats, electing a record number of women and putting into place the first female Speaker of the House. As a leader in the new group Winning for Women, Rep. Stefanik hopes to do the same for her party. Watch out for her in the GOP primaries in 2020, which may already be contentious if there is a primary challenge to President Trump.