Class of 2019 Takes their Final Bow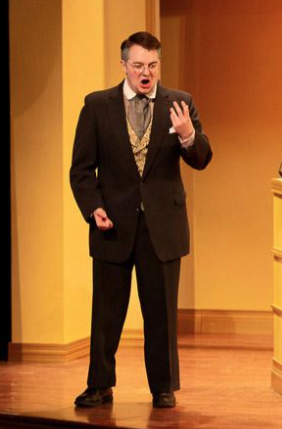 After a journey of eight productions and many 24 hour plays, the Class of 2019 Harlequins have taken their final bows as they chase their dreams into the world of college.
Since their time as freshmen, the Harlequins of the Class of 2019 have produced Mary Poppins, The Great Gatsby, The Little Mermaid, The Matchmaker, Crazy for You, Peter and the Starcatcher, Seussical, and The Tightwad.
The group has grown extremely close and are sad to part ways. Deirdre Norton '19 said, "The thing I will miss the most about Harlequins is the family I've found in the group. It's something that is so unique to the Harlequins, and I will miss it so dearly."
The seniors love their Harlequins family and many have found joy in the recruitment of members to their group. When asked about her influence on Harlequins, Vanessa Gutierrez '19 said, "I brought a lot of underclassmen in and had them involved in my crew." Many Harlequins also recommend joining in any way possible. Piper Foellmer '19 said, "Don't be afraid to try something new! You can audition for our fall musical or spring play. Or if acting isn't for you, you can join a crew. We have 7 crews and we're always excited when we have new members!"
With these friends, the Harlequins have made many memories. Audrey Cahill '19 said her favorite memory was when "For Crazy For You, me and Julia painted, repainted, and repainted four cacti for the set. It was super funny because there ended up being like 7 layers of paint on those things!"
Norton loved the annual trip that the Harlequins make to Theater Fest. She said, "My funniest Harlequins memory was actually on Theater Fest my senior year, when we were at a student event and I had to go to the hospital with Mr. Bellie and Ms. Pagels at 1 o'clock in the morning."
Although the Harlequins have had many laughs, they have also learned many lessons. Sofia Sanchez-Plesha '19 said, "I've learned so many things in Harlequins: determination, professionalism, focus, and many more. But, the lesson I value the most is that being authentically yourself is the best version of yourself you can be." Teresa Boyd '19 said she has learned that "regardless what I throw myself into, I just need to give it my best shot."
As their final days approach and they have shared their final bows, the seniors reflect back upon harlequins as they about what they will miss. Nina Siwik '19 summarized the unforgettable memories of Harlequins when she said, "I definitely find my home on stage in McLaughlin Theater, but in the audience, or the McLaughlin Room, or the theater lobby when we're just hanging out and blasting show tunes, I really find my home there and my home is with a family that I just cherish so greatly."
Although their days in the McLaughlin Theater are over, the Harlequins will continue to pursue their theater careers, whether it be on stage, behind the scenes, or in classes. The Harlequins influence lasts a lifetime and the lessons they have learned will impact them for the rest of their lives.