Do You Remember…
Alumni Teachers Recall the Walk as it Occurred in their Youth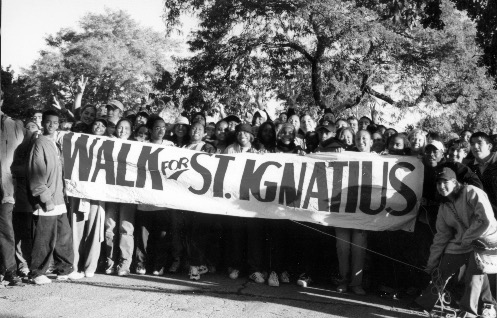 The Walk for Ignatius was a success! While this was the first time the current students at Saint Ignatius participated in the Walk, current faculty members did it before them. Two of them are Ms. Carney and Ms. Doherty!
Ms. Carney participated in the Walk for her four years at Saint Ignatius. One fun part of the event she remembers is "it always included a special pep rally leading up to the event." The pep rallies often incorporated a dance or music number put on by students and faculty. In addition, Ms. Carney said that "each walk had a specific theme, usually connected to a song." The song that comes to mind for her is "Walking on Sunshine." When asked how the Walk was beneficial for the students, Ms. Carney said, "It was a great opportunity to display school unity and spend some time on the lakefront with my classmates." She was excited for the Walk for Ignatius to return to SICP for the 150th Anniversary!
Ms. Doherty also participated in the Walk for Ignatius for all of her four years. When asked to describe what she remembers of the Walk, Ms. Doherty said, "I remember walking with my friends and seeing my teachers walking too. We had cards we had to get stamped at various places along the lakefront. I kept mine. We were supposed to turn them in in order to get our lunch, and to prove we had walked, but I thought they were really cool."
Like Ms. Carney, Ms. Doherty spoke about the themes. She said that one of the themes was Wizard of Ig: "Students dressed up as the characters and at the pep rally we had a little Toto dog in the gym."
According to Ms. Doherty, the Walk for Ignatius was a really fun celebration. "I think the weather was great all four years. People used to have big radios that they'd bring to the beach and prop it up on their shoulders. As students walked, they'd have different mixed tapes going of Kool and the Gang, The Gap Band, The English Beat," she said.
At the end of the Walk, students would hang around North Avenue Beach for hours and enjoy a hot dog lunch.
Ms. Doherty said, "partnering with Misericordia is a great idea. They've been an invaluable part of the Chicago community for almost 100 years. Our history of 150 years is a nice complement." The walk was an exciting time for Saint Ignatius. It was fun to make memories while helping a great cause.