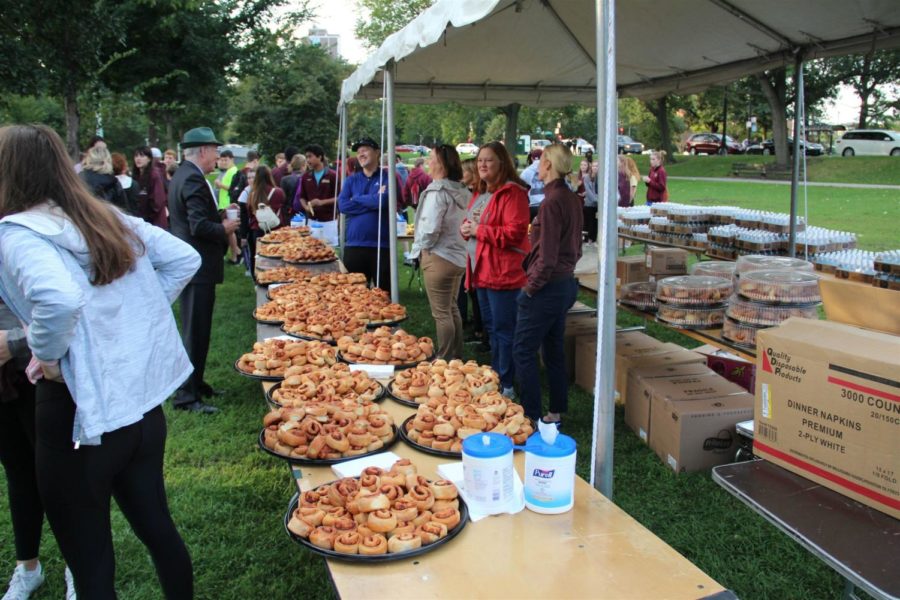 SICP
Since 1869, Saint Ignatius College Prep has been educating young men and women to go forth and set the world on fire. As SICP celebrates its 150th anniversary, the Saint Ignatius community is embracing all of Saint Ignatius' Grad at Grad values. Dr. Eileen Junkins '91, Manager of Sesquicentennial Events, calls the anniversary "a time to reflect on the past, look at the present, and dream about the future." 
As Ignatius entered its Sesquicentennial year and reflected on its past, it decided to bring back one of its earliest traditions: the annual fundraising walk. In 1971, class president Joe Rubinelli, and friends Ed Hunt and Tim Lynch organized a walk in the city to raise money for the school. The students began at North Avenue, walked north to Foster, headed back south to Navy Pier, before concluding at North Avenue. It was about a twenty-mile hike in total, and students received pledges per mile. The walk was an instant hit and became a yearly event. In the school days leading up to the walk, students wore pins saying, "I'm Gonna Walk" and then students wore pins with the motto "I Walked" the week after the event. 
For thirty years the walk was a popular tradition. Clubs and sports would do the walk together and the cross country team even ran the distance. It was a way for students to actively give back to Saint Ignatius and to promote school spirit. Each year had a theme. One year it was "Walk on the Wildside," another it was the "Wizard of Ig," and another time it was the "Walk of Life." Students who raised the most donations would win prizes like tickets to a school dance or gift cards to local restaurants.
After 2000, Saint Ignatius adopted different models of fundraising, so the walk ended. This year, however, the walk returned and was better than ever. In SICP's commitment to serve others, the proceeds went to Misericordia instead of the school. Misericordia has been a friend of Saint Ignatius College Prep for 100 years, so we gave back to our longtime companion by giving them our donations. Misericordia residents and staff were with us on the day of the walk to celebrate our 100-year friendship. 
On September 27, the Saint Ignatius Community went forth and set the world on fire as we walked in friendship with Misericorida. Ms. Latko described it best by saying, "this year's walk will be the spirit of what it used to be, while tying in new grad at grad values." 
Saint Ignatius represents their school and what we stood for on September 27th. Taking in mind what Dr. Junkins said about anniversary, we reflected on our rich past, were grateful for what we have, and dreamed about the next one-hundred-fifty years.