Three Seasons
Every day in the classroom we learn more about life and come one step closer to discovering who we want to become in this world. But we learn other life lessons on the field, court, pool, course, track, rink, etc. that are unique to the classroom experience. What makes Ignatius so special is the opportunities we are given to pursue our passions, especially athletically. Ignatius teams are rooted in Jesuit values of faith, love, commitment, dedication, and community. We are both three season athletes. Maggie lettered in field hockey, basketball, and softball, and Lauren in field hockey, dance, and lacrosse. There are few places where you can be multi-disciplined like this, rather than specialized in a single pursuit.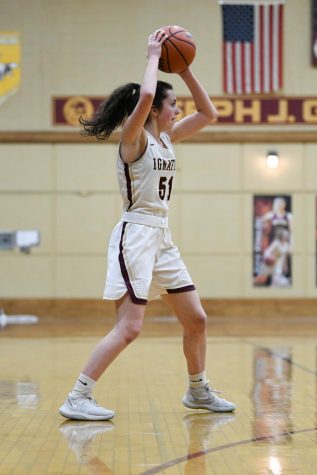 We love to compete. We love being a part of a team, it completes us. Of course game days are our favorite, but we really look forward to practice as well. We're always trying to improve, striving to be our best selves. We've formed unbreakable bonds with our teammates and found role models in our coaches. We've progressed from being underclassmen on the team, looking up to older players, to being senior captains. You, of course, get the physical benefits from sports, but more importantly, you learn how to be someone others can count on. You find your inner strength and perseverance. You understand what it means to play for something bigger than yourself. Vince Lombardi, another Jesuit, said it best: "If you're going to play together as a team, you've got to care for one another. You've got to love each other. Each player has to be thinking about the guy next to him". The relationships you form with teammates and the life lessons you learn from sports are lifelong. 
We know how it feels waking up at 5 am for early morning workouts, getting home at 10 pm from a game and having three hours of homework ahead of us, running wind sprints until you can't feel your legs anymore, practicing in the rain and snow, and working through injuries. We know what it is like to compete against competitors who are far better than us, and how to be gracious to those who are not. When we are spectators, we sit in the seat of an athlete. We know what it takes to score a goal against a double team. We see the precision in a double play. We recognize the artistry in consecutive fouettés.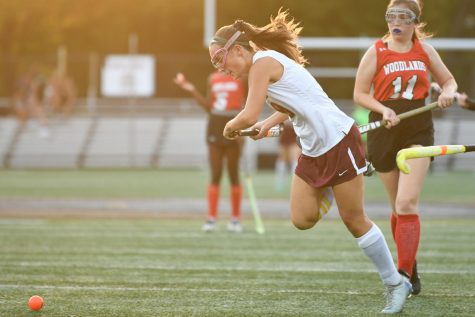 Ignatius has produced incredible athletes. This year we have classmates going to compete collegiately in volleyball, swimming, football, basketball, tennis, and more. They are masters of their craft. We chose another route: to play multiple sports and compete in all seasons. High school will be the end of our competitive career. The day will inevitably come when we have to hang up our cleats. But we will always have the experience of knowing how it feels to be part of a team, to be a part of a close-knit community. Years from now when we look back at our high school experience, we will remember the sounds of friends and family cheering from the bleachers, the excitement of stepping onto Fornelli under the lights, the cramped two hour bus rides to away games, the days spent volunteering at local service organizations with teammates, the spring break trips to Disney World, the bittersweet nature of senior nights, the sectional wins, and the school spirit at big games. There is no feeling like breaking a personal record, scoring a game winning goal, or hitting a home run. 
For younger readers, we challenge you to pursue all of your passions. Ignatius is the perfect place to do it. And for those moving on to the next stages of their life, we encourage you to reflect on your athletic career in high school and how it has made you the person you are today.