My Final Bow as a Harlequin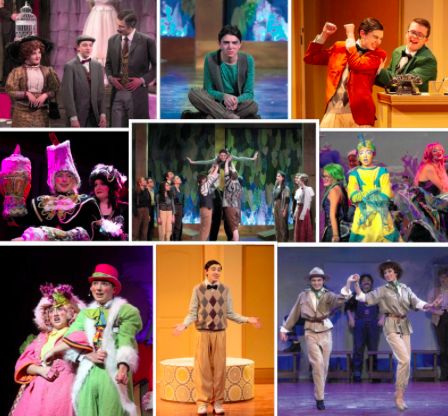 My experience with Harlequins has been a significant highlight of my time at SICP. I cannot imagine going to school without belonging to this great group and working for one common goal of producing the best shows possible. It is incredible to participate in such a positive environment, surrounded by people who support each other
From day one as "Freshman Flounder" in The Little Mermaid, I found a home. I have grown up here – literally eight inches. My first year was even more exciting because the group brought the show down state to perform at the Illinois High School Theatre Festival. Acting in comedy plays, such as The Matchmaker and The Tightwad, gave me the opportunity to bring joy to people and make them laugh. In musicals, such as Seussical and Crazy for You, I told stories through acting, music, and dance. One of my favorite roles I played was Peter in Peter and the Starcatcher as a sophomore. Through the creative process, the cast became really close as an ensemble and we all worked well together.
Beauty and the Beast was an amazing show to honor the school's sesquicentennial anniversary. One of the highlights of my final year of high school was playing Lumiere. The musical consisted of multiple dance numbers, large set pieces, and ornate costumes. It is the longest running show in the history of Harlequins because we needed to add more performances due to the high demand for tickets. In addition, we were so fortunate to be selected to perform at the Illinois High School Theatre Festival. The Harlequins brought the entire cast and crew to Illinois State University where we staged two shows. I feel lucky to have been able to perform at the festival during both my freshman and senior years.
Due to the coronavirus, it saddens me that I will not take one final bow on the Bob Newhart Stage in the McLaughlin Theatre. The spring show was Little Women, but the rehearsal process was unfortunately cut short. Even though the performances were cancelled, I will always cherish the memories from my many Harlequins experiences I had during my four years at SICP. I will miss all our special traditions and team-building activities, but I know I will keep the friendships. Harlequins has the finest ensemble of sensational set-builders, creative costumers, magnificent makeup-artists, splendid sound-squads, luminous light-teams, perfect props-people, and amazing actors. I loved being a Harlequin and I cannot wait to see the future for this incredible group of people.