President Biden's First 100 Days in Office
After a tumultuous election season, 60 lost lawsuits, and an attack on our nation's Capitol building, it's official: Joe Biden and Kamala Harris are our 46th president and vice president, respectively. You may be asking yourself "where do we go from here?" The Biden administration has already laid out a thorough plan for the President-Elect's first one hundred days in office. He has promised to put an effective, efficient vaccine distribution plan into action and has issued a mask mandate on federal property as well as interstate travel. Biden re-entered the Paris Agreement and vowed to rejoin the WHO, raise the corporate tax rate from 21% to 28%, and send a bill to Congress to make DACA permanent. In his first two weeks in office, the 46th President has pledged to strengthen "Buy American" provisions, which have been given a $400 million investment. These promises, however, are only the beginning for the Biden administration. During his first 100 days as president, Joe Biden has vowed to administer 100 million COVID-19 vaccines, open schools across the country, get Congress to approve another relief package that includes $1,400 checks per person, end the Trump administration's national emergency that facilitates funds to the border and make efforts to pass the "Equality Act," a bill to add more protections for LGBT Americans.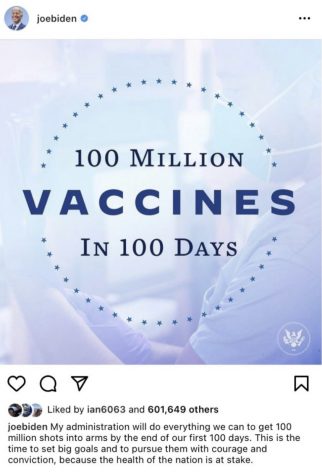 Biden has also proposed a $1.9 trillion COVID-19 relief plan, which he calls the first-step of a "two-step plan to build a bridge to the other side of the crises we face and to a better, stronger, more secure America." The proposal includes $20 billion for a national vaccination program, $50 billion for COVID testing, and $350 billion for state and local governments. Biden issued 22 executive orders in his first week, overturning Trump-era policies and introducing new, progressive programs.