Mike Madigan Relinquishes Role as Speaker
The longest serving state House speaker  in history, Mike Madigan, withdrew himself from consideration for the leadership position that he had held for nearly 48 years. In his place, his political ally Chris Welch has been elected as the 70th Speaker of the Illinois House; Welch is the first African-American to hold the position in Illinois History. Madigan leaves behind a complex legacy, yet it cannot be overstated how much of an impact he and the political machine he created and ran for decades had over all aspects of Illinois politics
Born on the Southwest Side, Madigan, 78, started his political career in Chicago under the popular and powerful Mayor Richard J Daley. Madigan attended SICP in the 1950's, and went on to graduate from the University of Notre Dame and from Loyola's Law School. Madigan's father served as a precinct captain in the Democratic Party. This connection would eventually put Madigan, then working on a dump truck, in contact with Daley. Madigan's loyalty to Daley and the Democratic Party, coupled with Daley's control of the Chicago political machine, resulted in Madigan' appointment by the mayor to the 1970 Illinois Constitutional Convention. That same year, he was elected as the youngest ward boss, a local leadership position, in the city, at age 27. 
Elected to the Illinois House in 1970 with Daley's support, Madigan has served for 50 years. He thrived in the House, ascending even after Daley's death in 1976. In 1983, Madigan was elected as Illinois House Speaker.
As Speaker, Madigan held an iron grip on Illinois politics. The 1983 voter-approved "Cutback Amendment", which reduced the size of the Illinois House as well as concentrated power into the hand of congressional leaders like Madigan, saw the new Speaker enter office with an extremely broad scope of abilities.
Madigan also had an iron grip over the Democratic Caucus. His success allowed him to serve at the head of a core group of legislators loyal to him, and to force anyone who opposed him into the fold. He appointed many of his supporters to leadership positions, creating a loyal and effective network of subordinates in the House.
In 1998 Madigan acquired perhaps his most potent position: chairman of the Illinois Democratic Party. This position put him in charge of fundraising for elections across the state. Madigan was a very efficient fundraiser, but any Democratic politician who dared to cross him would find themselves cut off from the party's campaign funds. Powers like this, as well as the loyalty he commanded from many representatives, helped him maintain his position as Speaker for the decades he did.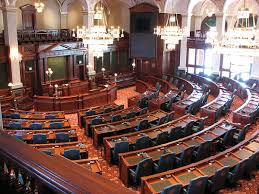 Nothing lasts forever, and political careers are no exception, especially ones that have flourished for such a long time. Madigan's fall began with the governorship of Bruce Rauner. The Republican governor and Madigan fought over a budget, resulting in a years-long period where the state had no budget at all. Rauner spent millions of dollars on ads portraying Madigan as a corrupt politician responsible for Illinois' fiscal implosion. Rauner would lose this battle as well as his governorship in the 2018 election, but the negative campaign against Madigan had a lasting effect. Concerns were raised about his power over Democratic officials, from judges to congresspeople. Madigan also oversaw the massive shortfalls and holes in the Illinois budget. Unfunded pension costs soared to hundreds of billions of dollars, and the state is continuing to lose money. A slew of complaints about the alleged culture of sexual harassment in the Capitol, as well as a sexual harrasent settlement paid out by one of Madigan's lieutenants, only did more damage. The next hit came when several of Madigan's close associates were arrested by the FBI for accepting bribes from ComEd. While Madigan was never formally charged, his reputation took a serious hit. The final blow came in the form of the underperformance  of Democratic candidates across the state in the 2020 election. This failure prompted Governor JB Prtizker to express his desire for Madiagn's departure. 
In January 2021, Madigan fell short of the 60 votes in the House needed to be reeelcted speaker. He still had the vast plurality of votes, but it soon became clear that the enough of his fellow Democrats were opposed to his speakership that another term at the lectern was unlikely. Madigan suspended his campaign for speakership on January 11. In his stead, the House elected Chris Welch (D – 7th District), one of Madigan's allies and the first African-American Speaker in Illinois history. 
Madigan was both the longest serving member in the Illinois House and the longest serving Speaker in the country. His massive influence on the course of Illinois politics cannot be overstated. Madigan's government presided over the creation of the Illinois lottery. He oversaw the impeachment of disgraced Governor Rod Blagojevich, whom he often butted heads with. He also shut down many of Blagojevich's ill-advised policy proposals. Under his leadership, the state would eventually move to the legalization of gay marriage, expanded access to abortion, investment in Chicago Casinos, legalization of recreational marijuana, and the abolishment of the death penalty. His time in office saw the advent of Illinois as a solidly blue state in national elections, through both demographic and political changes as well as with gerrymandered congressional districts. Madigan was adaptable, changing positions with the times to maintain both his personal power as well as the Democratic Party's popularity. "He stood up for things that matter," said Madigan ally Barbara Flynn Currie, "whether that was working families, collective bargaining rights, and reproductive health…he ended up on the right side of history."
Madigan also commanded respect from his peers, earning endorsements and accolades from members across the Democratic Party and a few from the Republican opposition for his work for poor and embattled communities across Illinois. Former Republican Governor Jim Edgar said that Madigan's word "was as good as gold, and he was willing to compromise." Current Senate President  and fellow ignatius alum Don Harmon (Class of '82)  said "Even though Mike graduated from St. Ignatius before I was born, that common experience, that common frame of reference quickly became the basis of a productive working relationship."
Madigan leaves behind a legacy that is as controversial as it is transformative. He still holds the position of chairman of the Illinois Democratic Party as well as his regular House seat, although speculation abounds about how long he intends to hold those seats as well.
Perhaps his legacy is not yet finished. His successor and the first African-American Speaker, Chris Welch, was also one of Madigan's protégés. Welch has promised dynamic leadership and reform, and only time will tell how much he differs from his ally and predecessor. For now, the State can only reflect on the tremendous impact that Speaker Madigan had in his decades at the head of the House.