The Performances of the Inauguration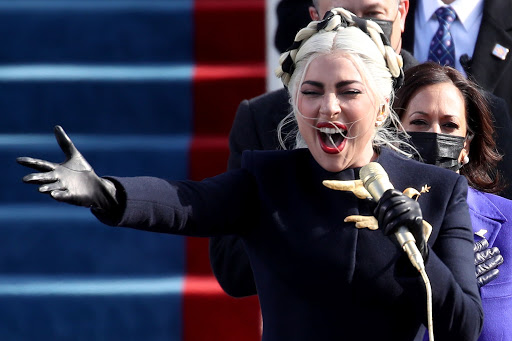 Joe Biden, the 46th President, was sworn into office on January 20th. For many, this was a joyous occasion and signified a fresh start. Joe Biden had the majority of Hollywood on his side during his campaigns and because of this, many artists wanted to show their love for him by performing at his Inauguration Day. Out of the many memorable performances, I have chosen a few that I would like to highlight:
Lady Gaga's unique take on "The Star Spangled Banner"
Before a couple years ago, Lady Gaga has been known for her wild performances, outrageous outfits, vivacious personality and powerful voice. It wasn't until performing in the film in "A Star is Born" that she showed the world her raw vocal talent and surprising acting skills. Songs like "Shallow" and "I'll Never Love Again" from the film showcase a totally different side of her voice that most people are not used to hearing… and she absolutely killed it. 
"The Star Spangled Banner" definitely did not disappoint. She starts the song softly yet passionately and finishes with a strong belt, showcasing her wide range of vocal abilities. Throughout the song, she looks so genuinely happy while singing. This is no surprise, as throughout the campaign, Lady Gaga has been vocal about her decision to vote for Biden.
Amanda Gorman's powerful poetry reading of "The Hill We Climb"
Amanda Gorman is someone who definitely got the recognition she deserved, and not just because of the fabulous yellow jacket she wore. Her reading was filled with a myriad of metaphors, alliterations, and rhymes to emphasize that she wants America to come together and change. Amanda speaks passionately and almost theatrically to connect with her audience beyond the actual words she is reading aloud. She paints the picture that the battle with change is "The Hill We [Americans] Climb", which happens to also be the title. Her poem reading definitely resonates with me and most likely with many Americans as well.
Jennifer Lopez's emotional "This Land is Your Land" and "America the Beautiful"
Jennifer Lopez's performance was definitely not the Super Bowl, high energy, alluring show we are used to seeing from her. The silky, confident but gentle renditions of "This Land is Your Land" and "America the Beautiful" made me rethink my thoughts on these classic songs. Her riffs at the beginning of the song are soft and controlled. However, she closes out the song with a powerful belt, showcasing her talent in multiple styles. Jennifer Lopez is the true definition of beauty; her stunning full-white outfit and emotional performance culminate together to create a memorable performance.