Where are the Arrupes?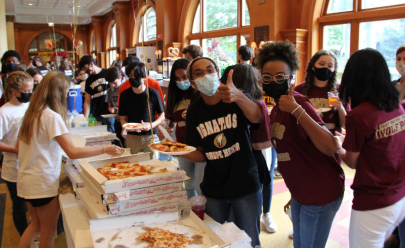 Arrupe Mentors have long been an integral part of making a freshman's transition to Ignatius life smoother and more enjoyable. From facilitating the Freshman Mixer to just chatting during homeroom, Arrupe Mentors are a valuable resource and friendly face for many freshmen. Advice from older and wiser Ignatius students about navigating Tully Hall, deciphering the WOLFPACK schedule, and deciding which clubs to join is invaluable for new students. 
Those of us who were lucky enough to have Arrupes in "normal" years may remember how, during our nerve wracking Freshman Orientation, Arrupes made the oh-so-awkward ice breakers a little less uncomfortable. We may remember that our Arrupes brought donuts for breakfast or said hello in the hall. Arrupes are a large part of making freshmen feel important, included, and maybe even a little cool, and the transition into high school immeasurably smoother.
While the Class of 2023 had the privilege of having Arrupe Mentors in their homerooms, the 2024 Covid class was not so lucky. With mask mandates still in effect around the globe, the 2020-21 school year was like no other. Aside from the effects the pandemic had on school, sports, clubs, travel, and essentially all other aspects of life, last year's freshmen were assigned lunch locations and free periods and were stripped of these crucial moments for meeting new people, making friends, and learning to navigate high school. 
Not having Arrupes in freshman homerooms meant not having a fellow student's opinion or advice. And while teachers were still available to answer questions, there is something so comforting about talking to someone close to your age who has been in your shoes and can attest to your experiences. The chances of your teacher having had the same teachers as you is quite low, whereas Arrupes experienced your classes and teachers only a short while ago. 
Being able to talk to older and wiser peers makes high school seem incredibly less daunting. To hear their experiences and see them thriving reassured freshmen that they, too, would be okay. 
As the Ignatius halls reach full capacity once again, the role of Arrupe Mentors is changing. This year might be one of the years Arrupes are most needed, since freshmen are grappling with the transitions to both high school and back to normal life. However, Covid's effects on Arrupe Mentorship linger. 
Since a longer 10-minute homeroom is a thing of the past, many Arrupe mentors have stepped up and reached out to their freshmen to close the gap. One thing making Arrupe-freshman communication a little easier: another large group of Arrupe Mentors. Most Arrupes this year have around two or three freshmen to check in with. 
Many Arrupe Mentors have, nevertheless, expressed their frustration with the lack of time to talk casually with their first year counterparts. They feel separated, and even irrelevant. As Mateo Gutierrez '22 puts it, "I haven't even met my Arrupees. I feel disconnected from the freshmen. Like, why do Arrupes even exist this year?"
Zelie Chua '22 concurs: "It's really hard to meet with our freshmen just because we're not in the same homerooms." However, she was also optimistic: "Freshman Orientation and the Mixer made me really hopeful that we'll be able to get to know our freshmen better throughout the year, even if some things have changed." 
Freshman Orientation featured a few familiar favorite Arrupe traditions, like the freshman clap-in and personalized locker decorations. In addition, the Freshman Diversity Orientation presented a new responsibility for many Arrupe Mentors to lead discussions surrounding diversity and inclusivity at St. Ignatius. In addition, the Freshman Mixer was a great way to introduce new students to fun school events and prepare for the first home football game of the year. 
As we look forward to the rest of the year, it is important to recognize that the future of the Arrupe program at Ignatius is still uncertain. This year's mentors will definitely have to be especially diligent about checking in with their freshmen, even if there aren't as many chances to see one another in person. We can be cautiously optimistic, however, since there have been some more new opportunities to see each other—namely, an Arrupe Mentor/freshman meet-up in the tent to play games, have snacks, and win prizes. 
The Arrupe program is such an amazing part of Ignatius, and something that the classes of 2024 and 2025 are seriously missing out on. As we all try to return to some semblance of normalcy, we as Arrupes can still be friendly faces around school. And hopefully, in the years to come, the Arrupe program may return to normal, as the smiling faces of the friendly seniors in freshman homerooms has incredible power to calm a nervous ninth grader.