5 Minutes to 50 Miles: A Peek at Ignatius Commuters
Trains, planes, and automobiles: how many did you take today? Whether 10 minutes or an hour, commuting is a part of daily life for many students. Ignatians call 130 zip codes, seven counties, and two states home and have a daily commute unlike that seen at any other schools. How are students, especially freshmen, adjusting from their local middle schools to traveling far distances before 8:00 every morning?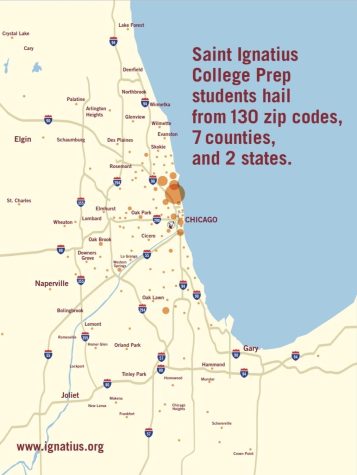 Some families had a unique way of making their freshman's transition easier. Harper Harris '26 shared her experience and what led to her family's choice to purchase a condo in the city. Harper is one of only four students commuting from the northern suburb of Glenview. On an average day, her commute involves a grueling 5:40 wake up, a forty minute train ride, and a fifteen minute bus ride before finally arriving at school. The train schedule leaves little choice other than arriving well before the usual 7:55. This, along with her dad working in the city and their family's frequent visits, contributed to the decision to purchase a condo in the city. This shortened her commute to a mere 15-minute bus ride and gave her an extra hour of sleep. 
Just south of Glenview lie the Western Suburbs, home for many Ignatius students. One Berwyn resident, Lizzy Maloy '26, wakes up as early as 4:00 A.M. to get a ride to school with her mom. That's ahead of schedule, even for those with classes on the fourth floor. While the commute is certainly different and harder from the quick drive or bike ride to her middle school, she actually likes getting to school early. "I get here before basically everyone, but it's really worth it, because I don't have to stress out the night before about getting homework done. Also, I can do more activities in the afternoon" says Maloy. However, Lizzy isn't the only member of the pack up early. Mary Schmidt '26 is a member of Saint Ignatius' varsity rowing team, who's practices start at 5:00 and end before 7:00. Many morning athletes like Mary have to stay ahead of the game, packing up for school at 8:00 p.m. and going to sleep as early as 9:00 pm to be ready for carpool the next morning. Schmidt says, "It is definitely a big shift and I am definitely tired earlier, but it is nice to have afternoons free to do stuff after school with friends." As simple as it sounds, the early morning may be a dealbreaker for many novice rowers who will graduate to varsity next year. 
Mr. Kennedy in the Admissions Office noticed a shift in how people commute between upper and lower classmen with seniors being more inclined to drive to school. Some people will never change their routine however. Sophia Gallego '26 commutes from Indiana. While the drive over state lines seems daunting, it's the simplest way for them to get to school every morning. Not everyone enjoys spending fifty-five minutes in a car. However, Sophia finds a way to put a positive spin on it, enjoying naps on the ride to recover from the early wake up.
Whether a student is one of the 300,000+ commuters on a CTA bus every school day, a sprinter catching their departing train, a zero emission pedestrian, or a Hoosier with enough will to cross state lines every morning, students almost always manage to get here on time.