Seniors Gear Up for First Time Voting
As Chicago continues the race to elect its newest mayor on February 28th, new voters at Saint Ignatius get ready to vote for the first time. The race is currently in full swing, with two debates the week of February 6th, and early voting sites being expanded in 50 wards. 
As of now, the polls show that the three front runners are incumbent mayor Lori Lightfoot, and challengers Chuy Garcia and Paul Vallas. The topics that have been at the forefront of the discussions are public safety, transportation, and education.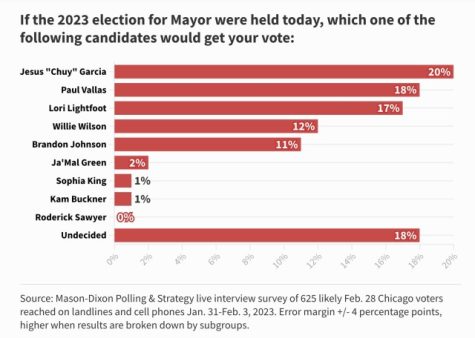 This is an exciting time for seniors at Saint Ignatius, many of whom are beginning their civic duty of voting for the first time since turning 18. 
"I'm excited because it's something that I've always seen-you know, everyone talks about voting all the time, and it seems fun," said Micayla Clinton '23. Her excitement to vote was shared by Mercedes Curran '23, who said, "I think it's a privilege to be able to vote, and I am excited for the opportunity!" 
Students who are new to voting are also finding what works for them, when making a decision on who to vote for. Curran said, "For a long time, our parents' decisions have been influencing ours, and I am realizing that I don't have to blindly follow what they are saying. I am just excited to do my own research, and I am glad that we are able to have our voices be heard for the first time." 
Some students, like Fiona Gawne '23, were able to vote in the midterm elections, so the mayoral race will be their second time voting. "Last time, my mom sent me a website. It was a Chicago news source and it gave the run-down on every candidate. I think this election I will do more, but I'll still look at that list because it was a good source, but I think I'll do more in-depth research on my own." 
Students at Saint Ignatius are also making choices based on personal connections. Clinton revealed, "I've actually met Lori Lightfoot because her kid went to my grade school. She is a girlboss, and I've seen her ads that say to make Chicago safe, and I like that. I think she has done a good job." 
On a similar note, Curran, who has family members involved in Illinois politics, believes that it has helped her when making voting decisions. "My uncle was a sheriff for a few years and ran for Governor, and I think learning about both of those processes expanded my knowledge about how the Chicago Democratic system works. Overall, the whole thing was very educational to me about how elections work and how governments run."