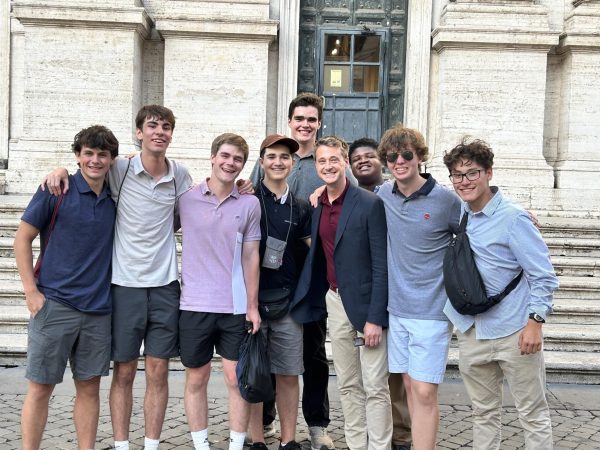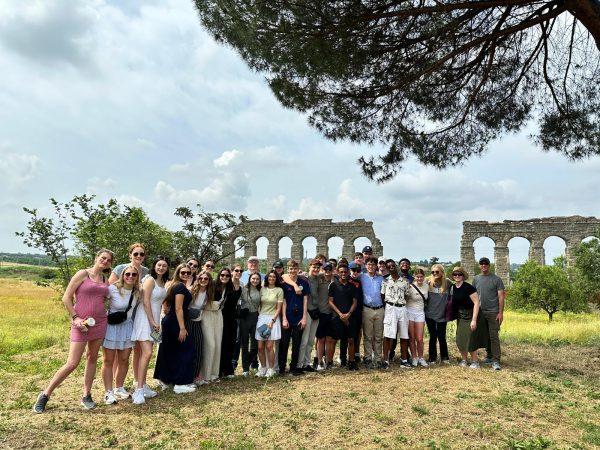 On an early Saturday morning, thirty students from Saint Ignatius College Prep stepped aboard a Boeing 747 on a flight to Rome, Italy. Although many of the students had never stepped foot outside of America, what they saw gave them a new outlook on life outside of the US.  During their time in the City of Seven Hills, students were able to discover cultural and historical landmarks such as Pompeii, Saint Peter's Basilica, The Vatican, and the Sistine Chapel, to name a few. 
Senior Jack Rankin said, "It was so beautiful, but at the same time it's so mesmerizing to think that within a few centuries the Romans were able to build such a beautiful empire full of wonderful architecture that was so well preserved by the government." 
When asked about how seeing these wonders of the world changed his world view, Rankin stated, "I have a newfound appreciation for such wonderful architecture, I can only describe it as if there was Saint Ignatius College Prep on every block of Italy. I wish we had more of these classical buildings in America, even though we aren't as old as Italy."
The Saint. Ignatius students were also able to experience all of the culinary masterpieces that Rome had to offer. From carbonara to authentic Italian pizza to steaks and even the fan favorite capicola, Mac Kelly found this trip to be full of flavor. "I really loved all the food I was able to sample nonstop. I tried to have something new every single time we went to eat that whole week, but I usually ended up getting the veal because I loved it so much." 
When asked about how the food changed his worldview, he went on to say, "I've become so much more open to trying new things, but I have also become more frugal in terms of what food I buy. I now prefer authentic food that may take a while to make over quickly made food. You could say that I kind of learned to savor the wait just as much as I savor the food."
On June 11th, many of the students were sad to leave Italy and return home. One of those students was Quinn Miske. When asked about what she learned about this trip, she responded with, "I'm so sad that I have to leave this beautiful place. It's so nice here and if I really could, I'd stay here for months upon months. This trip has taught me that there is a whole new world out there. Sometimes I need to get out of my comfort zone to experience it, and I'm excited for the next opportunity to broaden my horizons and keep expanding my new view on the world." 
Although the trip was only nine days, the students were able to take in a life's worth of experiences. From the eye opening views, to the mouth watering cuisine, there was something for everyone to experience and cherish for a lifetime.