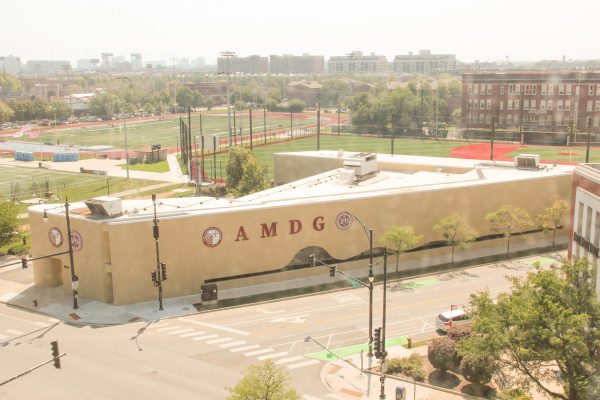 In recent years, Saint Ignatius College Prep has embarked on a remarkable journey of expansion and growth, fueled by a vision to enhance its athletic capabilities. This summer marked a significant milestone in this journey as the school acquired the former Lakeside Bank Building, a structure with a storied past. Behind the walls of this bank, an intriguing transformation is unfolding, raising questions that have captivated our community: What progress has been made on this acquisition and the subsequent facility upgrade? What was the process of purchasing this land like? And, perhaps most intriguingly, why did Saint Ignatius embark on this unique transformation in the first place?
The President of Saint Ignatius, John Chandler stated that it was for the "continued growth of our athletics progress program the success of our athletics program."  The Board of Trustees short term plan is to use the building to host the strength and conditioning programs for students, as well as provide bathrooms for students at Rice Park. Long term goals, however, are very ambitious as Mr. Chandler shared his interest of adding rowing equipment for the team to train, building a stadium, a wrestling practice space, and working toward better accommodations for the Tennis and Golf teams, two of the sports that travel a distance to practice.  The land purchased is more than 2 acres, expanding the Campus to over 26 acres on both sides of Roosevelt Road.
The President is very eager to construct and develop these ideas into reality, with the current status of the project's advancement going seamlessly. Mr. Chandler said "Phase one will be ready by the 2nd semester."   
Future progress has not yet been predicted due to the need to assess the building's structure for the ambitious additions. 
Reflecting on the project process, Mr. Chandler explained it is "frustrating at times, but Saint Ignatius teaches us to be patient."  This patience, according to Mr. Chandler, paid off,  as an opportunity presented itself that led to Saint Ignatius formally acquiring the land, and now planning to create it into something that will greatly benefit the Saint Ignatius community.
As Saint Ignatius College Prep continues to grow with future plans of buying more land to expand the theater and providing more opportunities for students, including the planned "Sodality Hall", which will provide additional space for engineering, robotics, AI, coding, and the arts. However, as we expand, we must also remember that success takes time, and in the words of Mr. Chandler, "we will wait wait wait."