Saint Ignatius Varsity Soccer had high expectations coming into this season, but a two-loss skid is leaving some questioning those high standards. Early in the season, the soccer team suffered its second loss in two days to York Central High School, losing the game 1-0 on Fornelli Field. The defeat came directly after a devastating 1-0 loss to Notre Dame College Prep, who is now 4-0 on the season.
The varsity soccer team had a mediocre season last year, as they finished 8-6-5 and brought home a regional championship. The season ended with a disappointing loss to sectional rivals Solorio, who are known for their elite reputation.
This season, the team has made many changes with the hopes of making a run at state. The program has purchased the Trace Sports Camera, which tracks the players' movement via a chip in their socks in addition to recording the games.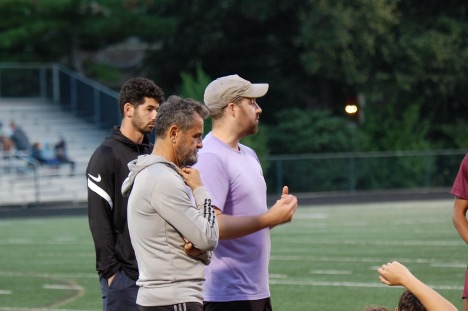 "You can see who's not working hard and who's putting in effort," said forward Diego Garcia, "It's really helpful to the coaches and the team."
In addition to the new Trace System for varsity, the team has added new coaches, Philippe Lesuisse, and Sam Stovitz.
"They both add a different perspective than Head Coach Miller," Garcia said. Both new coaches come in with a lot of experience, with coach Philippe having spent a considerable amount of time coaching in Europe.
Sam Stovitz (Left), Philippe Lesuisse (Center), and Matt Miller (Right) talking to the Varsity team during halftime vs. York (Photo: Steve Chough)
All of the coaches will be looking for a bounceback from the players after a disappointing 1-3 start. Thus far, all of the Wolfpack's games have been after school, which adds another layer of difficulty for the players. 
Defender Tom Schmiedeler raised his criticism for the frequency of after-school games, saying, "Obviously the other team is in the same situation, but I think our team particularly struggles with finding the right amount of energy after a long day." Many varsity players will attend a full 7-hour school day, and will then have to go straight on the bus to the game. In many players' eyes, this makes it impossible to feel ready to play.
Despite the 1-3 start for the Wolfpack, there is a high level of optimism on the team. The team's schedule to start the season was, by many standards, incredibly difficult. Over the next couple of weeks, the schedule will let up and the players are hoping that is when they can turn their season around.
The Wolfpack varsity team during the national anthem for their game against York Central High School (Photo: Steve Chough)
"We know we are a good team," Schmiedeler said, "We just have to put it all together."