Francois Hollande, a former President of France, gave a talk in the McLaughlin Theater at Saint Ignatius College Prep on September 29th. The talk focused on a book he authored in 2022, titled Bouleversements, or ''changes'' in English. 
Some Saint Ignatius students in high-level French and social studies classes, such as AP French, AP Comparative, and AP Euro, as well as a small number of students in the Model United Nations Club, were able to attend the talk from Hollande, which many saw as a once-in-a-lifetime opportunity. 
Hollande served as French President from 2012 to 2017 and was succeeded by current president Emmanuel Macron. The biggest events of Hollande's presidency were his decision to pull French troops out of Afghanistan early, and his successful fight for the legalization of same-sex marriage in France. Hollande is also known for his reformation of the labor market and pension system in France, with the former making France's economy much more competitive against other European countries. The former president visited Chicago to speak at Northwestern University's Buffett Institute for Global Affairs, and he followed that discussion with his talk at Saint Ignatius.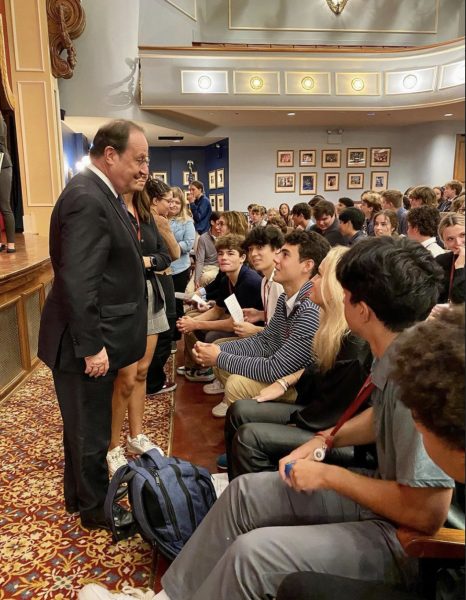 Wiatt Hague, a current Advanced Placement French student, expressed his excitement about Hollande visiting Saint Ignatius. Hague, as well as his AP French classmates, attended the talk given by the former President. ''We have spent a few class periods learning about his accomplishments, and it is kind of insane to think we're going to hear him talk in person,'' Hague said. ''I think we all couldn't wait until September 29th.'' 
While many students were excited about Hollande's visit, other students were concerned about the fact that they would not be able to attend the talk, which left them frustrated. The Mclaughlin Theater seats less than 400 people, which is less than half of the school population. "I took French for three years here, and I never got an opportunity like this one," senior Brendan Sullivan said. "I think it's unfair that only some of the school attended the talk while the rest were left out to dry." 
Sullivan's perspective was echoed by a significant number of students in the Ignatius community, as an overwhelming majority of the school population did not have the opportunity to witness the former world leader speak. These concerns raised questions about whether the conversation should have taken place somewhere that could have seated a larger number of students, like the Gentile Gym or Tully Hall, rather than the Mclaughlin Theater. 
Despite these concerns and frustrations, the organizers of the event remained certain that it was a great success. While it is disappointing that everyone did not get the chance to visit Hollande's talk, it only emphasizes how special this opportunity was, as a chance to attend a talk like this had never been presented before. Francois Hollande is one of the most successful and influential figures to step on the Saint Ignatius campus, which is why so many people were excited about his visit to Saint Ignatius on September 29th.