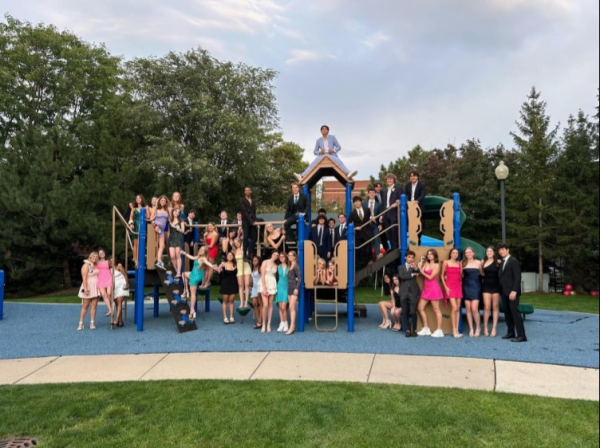 Celebrating the first of their lasts, seniors at Saint Ignatius attended their final homecoming on Saturday, September 16, making it the first major event that has come to a conclusion for the seniors. Saint Ignatius students got to enjoy a night in old Hollywood, while dining in Tully Hall and dancing the night away in Fornelli Field. Tickets were $15 per student and were sold the week prior to the dance. The doors to the dance opened at 7pm, yet students were given until 8pm to get checked in. 
After checking in, students were greeted with various food options, such as cheeseburgers, tacos, potstickers, fried rice, and even Italian ice, located around Tully Hull. Continuing through Tully Hall, students could make their way to the dance floor located on Fornelli Field. Since the dance floor was located on the field, heels were not permitted beyond Tully Hall. Students enjoyed listening to student recommended songs and more under the white tents of Fornelli.
Some seniors anticipated that this event would have a good outcome, yet the majority of seniors expected the dance would not be interesting. After attending the dance, Alexa Smith, a senior at Saint Ignatius, stated, "I did not think it started out that slow. It was a pretty good pace and good energy the whole time, you know, a lot of people talking on the field, you know, dancing." 
Jack Neiman, another member of the class of 2024, recalled that "It was fun, I personally did not dance at all, but seeing people across grade levels, talking, and generally having a good time made it fun. There were also a lot of people there, which is good to see that the underclassmen actually care about school events." 
However, both Smith and Neiman noted that one downside to the dance was the failure to incorporate the theme into the dance setting. Each stating that there were limital decorations related to the old Hollywood theme in both Tully hall and the field. Despite some mixed opinions about the decor of the dance, senior Eleanor Rossini said she felt as though "the Old Hollywood theme was the most creative and thoughtful theme out of all of the dances I have attended in my time here at Saint Ignatius." The decor in Tully Hall was very ornate, and many seniors had a wonderful time at their final Homecoming dance in Hollywood.