After a very successful 15 years at Elmhurst University, Joel Southern was named Head Baseball coach at Saint Ignatius College Prep. On August 8, 2023 the Saint Ignatius Athletic Department announced the new head baseball coach. Southern's experience and new vision for the program also brings momentum to an already strong and growing program.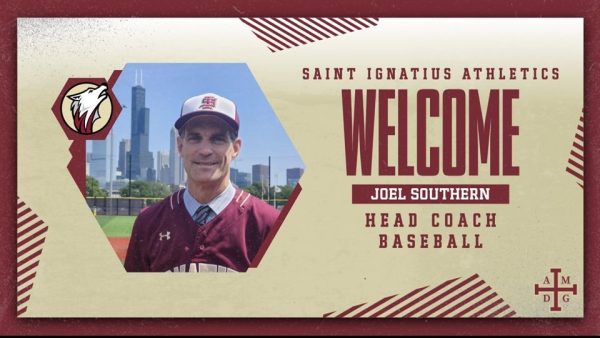 Coach Southern is no stranger to Saint Ignatius.  He taught in the science department from 2000 to 2001 and will be joining the science department for a second time.  This will give Coach Southern the chance to work with students in the classroom as well as on the baseball field. 
Prior to returning to Ignatius, Coach Southern acquired many awards and accolades during his time at Elmhurst. He won the College Conference of Illinois and Wisconsin (CCIW) Coach of the Year Award (2012). His team had appearances in the CCIW Tournament in 2007, 2012 and 2021, and enjoyed consecutive 20-win seasons in 2016, 2017 and 2018. During his time at Elmhurst, the program produced 35 All-CCIW honorees, 24 All-Central Region performers, two All-Americans and three All-Region Gold Glove award winners.  Prior to Elmhurst, Coach Southern acted as an assistant coach at Western New England University and the University of Chicago.
With this resume and all his experience on and off the field, Saint Ignatius has high hopes that Coach Southern will take the reins and lead the baseball program to new levels.  Brendan Giles, a fellow teammate stated "It is an exciting time for the program as the new baseball field that debuted last season will have all the finishing touches complete by the beginning of the 2023-24 season along with the newly acquired building next to the field for added amenities and now a new coach".  All these components together will hopefully give Coach Southern a warm welcome and the opportunity to elevate the already stellar baseball program at Saint Ignatius.