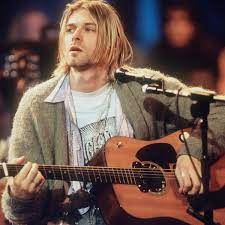 MTV (Music Television) initially launched its first show on Aug. 1, 1981, and changed pop culture forever. The new broadcast's first song shown was the one-hit-wonder, "Video Killed the Radio Star" by The Buggles, a catchy song that won't leave the listener's mind after they've heard it too many times and might leave them with a headache. 
However, these mainstream, generic musicians were soon pushed out of the market by more ground-breaking performers like Prince, Madonna, and Duran Duran. Switching gears to market towards a younger audience, MTV adopted new music genres of grunge and rap, kickstarting a new wave of music for the '90s. Most notably, the concert series Unplugged gave artists the ability to escape their previous high-energy concerts and perform acoustically, relaxing on chairs without the pressure to impress crowds with dances or insane guitar moves.
Of all Unplugged performances, one that sticks out the most to fans is Nirvana's "The Man Who Sold The World" or Alice in Chains' "Down in a Hole." But all good things must come to an end, and that happened when this relaxed, intimate form of music was knocked down by the nu-metal rap rock style of artists like Fred Durst, Korn, and Kid Rock. The peace and playfulness of MTV was wiped clean with the festival and broadcast of Woodstock '99. No, not the peaceful, "make love, not war" energy of Woodstock '69, but the disaster and complete anger showcased by attendees of the 1999 festival. 
Limp Bizkit's performance of  "Break Stuff" completely contrasted Nirvana's Unplugged session with one of destruction and rage. MTV's broadcast of the festival had to be shut down after reporters and hosts were in an unsafe situation because of the violence of the crowd, showcased in Music Box's "Woodstock 99: Peace, Love, and Rage" documentary. The Daily Mail presents Woodstock '99 as "The day the '90s died." The unorganized festival left approximately two dead, 44 arrested, and about 10,000 requiring medical treatment.
Once the 2000s hit, MTV was soon turned into a reality T.V. powerhouse, producing shows like "Punk'd," "Cribs," "The Hills," and one of the infamous "Jersey Shore."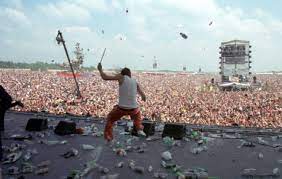 The shore show turned MTV upside-down, and watchers found Snooki's drunk stumbles and questions of "Where's the beach?!" far more interesting than the mellow, relaxed "Unplugged" music section. The "Jersey Shore"'s influence on pop culture is undeniable, as it influenced fashion into neon color palettes and animal print galore. While most aren't upset about "Jersey Shore"'s overtake of MTV, it's widely agreed that it wiped out MTV's music broadcast.
Clicking on the MTV channel today, "Jersey Shore: Family Vacation" with the occasional 3 a.m. reruns of "Unplugged" are most likely to pop up. MTV certainly isn't what it used to be, but it brought out a new, raw side of music and revealed the angst teenagers of the 90s felt.
With the emergence of technology and easy access to entertainment via iPhones, television production has slowed, and music popularity is judged based on TikTok. However, this easy access to the internet has also resurfaced the skill and artistry of musicians such as Kurt Cobain to a younger generation. Music has always reflected society's inner feelings, shown through the mess that was Woodstock '99 and the angst of Nirvana's popular music, and music will continue to do so, whether popularized through the quick scrolls on TikTok or the "Unplugged" MTV sessions.