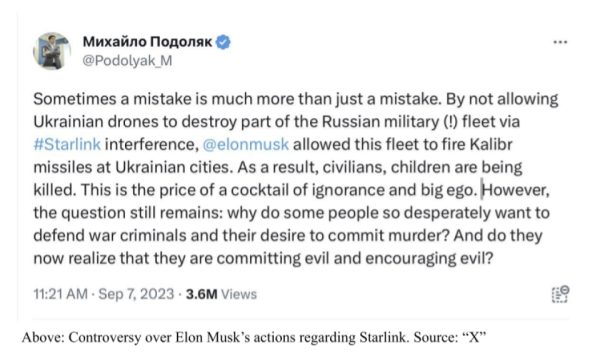 In a newly published biography about Elon Musk, it was unearthed that he left American and Ukrainian intelligence services scrambling last September by blocking the activation of Starlink over occupied Crimea, which compromised a Ukrainian attack.
Starlink, one of Musk's many projects, was donated to Ukraine during the early stages of the war. This network of satellites allowed Ukraine to use free and secure data and the internet to allow for communication, planning, and the operation of drones for offensive and defensive purposes. 
Musk, following the accusations, stated on X, that he received a request from the Ukrainian government to activate the Starlink satellites over occupied Crimea to allow for a massive naval drone strike on Russia's black sea fleet, which was at port. 
Musk denied this request, later explaining in a tweet that he feared that this attack would be considered a major escalation. Originally it was believed that Musk ordered Starlink to be deactivated, but biographer Walter Isaacson clarified that Starlink was never activated in the first place over Crimea.
Mykhailo Podolyak, advisor to President Volodymyr Zelensky, confronted Musk on X, saying, "As a result, civilians, and children are being killed. This is the price of a cocktail of ignorance and big ego." This incident has also caused the Pentagon to suspect that Musk may be colluding with Russia, which would cause serious national security concerns. 
Starlink is currently in its early stages of use within the U.S. Government. In 2022, the US Air Force awarded Starlink a contract of an undisclosed amount to evaluate its future integration into multi-domain operations within the United States Military.
Due to Musk's ability to decide whether to activate or disable Starlink, there are fears that when the United States needs Starlink the most, Musk may be able to block the attempts.